Listen . . . I didn't ask for this to be my life. I didn't ask to become obsessed with a writer from 200 years ago and the characters that she created. But here we are and here I am.
There is probably at least an 80% chance that at any given time I am thinking about something Jane Austen-related, so naturally that means I need to talk about it. I've watched/read a fair few Austen adaptations in my time. Here is my list!
Disclaimer: This list is going to be highly subjective. It only contains the adaptations that I have read or watched.
I'll be ranking each one on a scale from ten thousand a year to destitute, and I'll be updating this list periodically as I find more!
Sense and Sensibility (1811)
Sense and Sensibility (1995)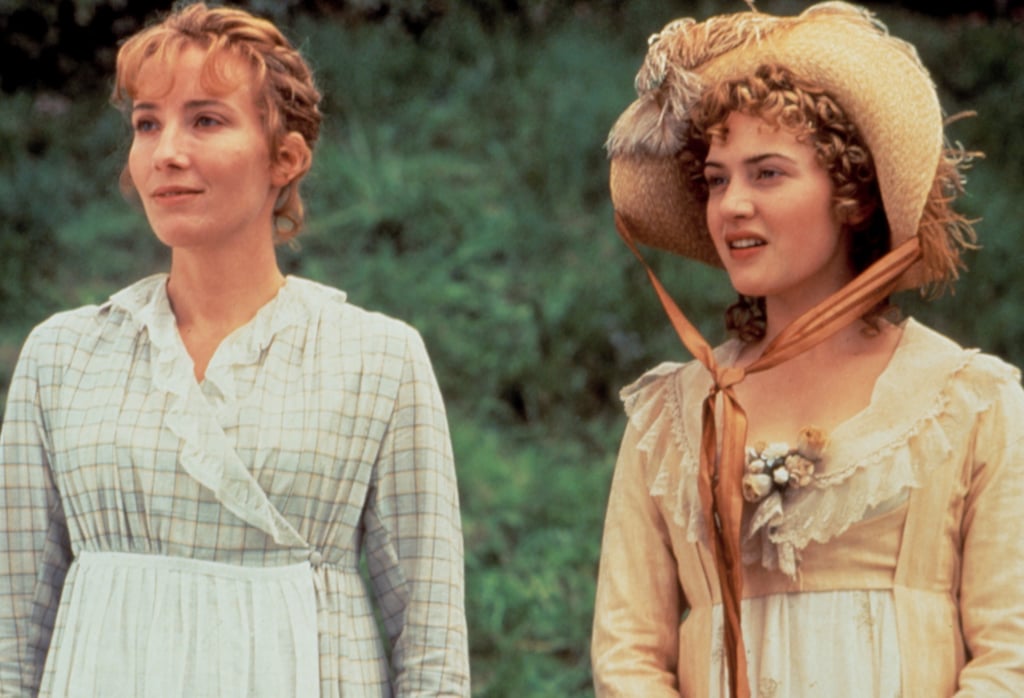 This movie is just a really solid adaptation, in my opinion. The screenplay was written by Emma Thompson and I believe she won an Academy Award for it! Both Emma Thompson and Kate Winslet are amazing in their own way showing all the complicated sides of both Elinor and Marianne Dashwood. And I can hardly complain about Hugh Grant and Alan Rickman. I don't have anything to compare this to (yet) so right now it's my favorite S&S adaptation!
Rating: nine thousand a year
Pride and Prejudice (1813)
Pride and Prejudice (1995)
This BBC miniseries is the quintessential Pride & Prejudice for a lot of people. With six 55-minute episodes, it's probably the most faithfully accurate adaptation to the book, usually following each scene word for word (with the notable exception of the infamous lake scene, of course). It's not my absolute favorite, but it's delightfully long and enjoyable, which means you can waste an entire day just sitting around watching it. Plus, bonus points for Colin Firth's grumpy cat face.
Rating: nine thousand a year
Bride and Prejudice (2004)
Yes, this is a Bollywood adaptation of Pride and Prejudice and yes, it is just as ridiculous and amazing as it sounds. Of course you can't take it too seriously – it's a little bit over the top – but it's lots of fun. Plenty of dancing and singing and and ridiculous characters to go around. Also, it touches on issues of race and cultural difference as well as class, and I think it's the only P&P adaptation with a POC lead.
Rating: seven thousand a year
Pride and Prejudice (2005)
I feel like people either love this movie or hate it. I am one of the people that absolutely loves it. This was the first adaptation I watched after I read the book, so it'll always hold a special place in my heart. Not to mention its soooo beautifully made! I've watched it more times than I can count and I think I notice something new each time. The attention to detail and artistry is unreal! Keira Knightley is gorgeous! And have you listened to the soundtrack??? Go listen to the soundtrack. It's important. This is one of my go-to feel-good movies – I'll never get tired of it.
Rating: ten thousand a year!
Pride and Prejudice and Zombies by Seth Grahame-Smith (2009)
Another quite polarizing adaptation, I think. It's exactly what it sounds like – the story of Pride and Prejudice, but there's also a zombie epidemic so all the characters are zombie killers. Personally, I thought this was lots of fun. Again, completely ridiculous. Can't take it too seriously. But the juxtaposition of the Regency era decorum against zombie killing? Unbeatable. It's silly and fun and great – what more could you ask for in an Austen adaptation?
Rating: eight thousand a year
The Lizzie Bennet Diaries (2012-2013)
By far, easily my favorite adaptation of all time. This Youtube series is told through vlogs by Lizzie Bennet, a grad student, along with her best friend Charlotte Lu, and it's honestly what made me fall in love with Austen. I could write for pages and pages about how incredible this show is, but I'll spare you (for now). I'll just say that this series is probably the most well made, thoughtful, and relevant modern adaptation out there. Not to mention it's hilarious and adorable and addicting and — *deep breath* Okay, I'll stop. Gooooo watch it.
Rating: ten thousand a year, plus half of Derbyshire (the non-miserable half)
The Secret Diary of Lizzie Bennet by Bernie Su and Kate Rorick (2014)
This novelization of The Lizzie Bennet Diaries ended up being way better than even I expected. It retells the story we get in the webseries through Lizzie's diary entries, letting us see more into her thoughts and some behind the scenes stuff. I loved the moments we got with Mr. Bennet, as well as Lizzie's "date" with Darcy (and Gigi) in San Francisco. This is really only something you can appreciate after watching The Lizzie Bennet Diaries, though.
Rating: nine thousand a year
Pride and Prejudice and Zombies (2016)
Again, polarizing. But really, this movie was just so much fun. Gotta love seeing ladies in Regency dresses murdering zombies. Also, the proposal scene (which included Lizzy screaming "SHE'S SHY!" while chucking books at Darcy's head) was, in a word, iconic. It certainly takes some liberties, but I'm okay with that.
Rating: eight thousand a year
Eligible by Curtis Sittenfeld (2016)
This is another modern adaptation, with an aged up Elizabeth who is a feminist magazine writer. In this version, Bingley is a former contestant on a Bachelor-like show called "Eligible" – he comes to town with his neurosurgeon friend, Darcy, and the rest is history. Unfortunately for this book, I couldn't stop comparing it to The Lizzie Bennet Diaries, which made it look not quite as good as it could have. Honestly, I don't remember much about it. I didn't have major complaints, but it didn't stand out to me in a big way.
Rating: six thousand a year
Unleashing Mr. Darcy (2016)
This Hallmark movie retells Pride and Prejudice with Elizabeth as a dog show handler (??) and Darcy as a dog show judge. It. Is. Terrible. Lizzy especially is extremely out of character – she never has a witty remark for anything (in what world???) and she's way too in this rich person world for any of the social commentary about class to mean anything. I watched it hoping it would be terrible in a funny way, but it was just plain terrible. I really don't know what I expected from a Hallmark movie, tbh.
Rating: DESTITUTE.
Heartstone by Elle Katharine White (2017)
Imagine . . . Pride and Prejudice . . . with DRAGONS. Yes, you heard that right. This book combines two of my favorite things in the world, and it does it so well. In this retelling, Aliza Bentaine meets dragonrider Alastair Daired and . . . well, you know the story. Not only was this a wonderful reimagining, it had incredible worldbuilding and an exciting finale. I liked what it did with all the different storylines to make them fit into a fantasy world! It was basically everything you could want from a Pride and Prejudice dragon AU.
Rating: nine thousand a year
Inspired by Pride and Prejudice
Bridget Jones's Diary (2001)
I actually didn't know this was inspired by P&P when I watched it and I might not have caught on at all if it weren't for the fact that one of the characters is named Darcy (plus, you know, Colin Firth). This is definitely a big favorite of a lot of people, but unfortunately it isn't really my thing. Ah, well.
Rating: seven thousand a year
Austenland by Shannon Hale (2007)
Seeing as how Shannon Hale is one of my favorite authors, there was little chance of me not liking this. And, well, I was certainly not disappointed. This book follows Jane, a woman obsessed with Austen, as she goes to an Austen-inspired resort and hopes to find her own Mr. Darcy. It is just so much fun (and incredibly relatable). It has surprising depth to the characters and message (though, considering that it's Shannon Hale, not too surprising) and it's a fun bit of vicarious storytelling.
Rating: eight thousand a year
Austenland (2013)
This movie is a lot of fun, though I'm a little frustrated how it oversimplifies and "Hollywood-izes" (that's a thing, right?) a fairly complex story. What else can you expect, though? It's a cute rom-com and, once again, very relatable.
Rating: seven thousand a year
Lost in Austen (2008)
This series tells the story of yet another  Austen-obsessed woman who is somehow transported into the word of Pride and Prejudice, where she subsequently messes everything up. Plain and simple, I hated it. The story of P&P is already so perfect – why would you do that to it?? And it ends (spoilers) with her marrying Darcy and Elizabeth going back to take her place in the modern world??? Talk about self insert???? I get so angry about this.
Rating: DESTITUTE.
Death Comes to Pemberley by P.D. James (2011)
Confession: I actually liked the miniseries better. This murder mystery follows Darcy and Elizabeth six years after their marriage when somebody shows up dead on their property. There were certainly things that I liked about this book, but it felt like it was trying too hard to imitate Austen's writing style and not really succeeding. Plus, it focused a bit too much on Darcy, when I feel like Lizzy should basically always be the focus of a P&P story. But, let's be real, I love all of these characters, so it was still fun. I have a review here.
Rating: six thousand a year
Death Comes to Pemberley (2013)
See, this was just really well made. It's the same story as the book (with a few creative liberties) but I think it did a better job of tying all the plot lines together, upping the tension, and making Elizabeth a more central character. It's only three 1-hour long episodes, so it goes by quick! Plus, the production quality is really good – it has a similar feel to the 2005 movie.
Rating: eight thousand a year
Mansfield Park (1814)
I'm almost ashamed to admit it, but this is the only Austen novel that I haven't read yet. But it's coming up next, so this should be updated soon!
Emma (1815)
Clueless (1995)
Unlike most people my age, I didn't grow up watching this movie – in fact, I didn't watch it until after I'd already read Emma. I don't think I ever would have guessed that it's based on a 200-year-old novel if I hadn't already known! Well, you know Clueless, it's basically a teen classic. It's a really fun high school romcom with a new spin on an old story, and I think it would be hard not to love it.
Rating: eight thousand a year
Emma (1996)
I watched this movie before I read the book and I haven't seen it since, so I don't have a particularly clear memory of it. I think I liked it at the time, but there are certainly adaptations that I like more. And when I picture the characters, it's not these actors that come to mind, so clearly it didn't leave the most lasting impression.
Rating: six thousand a year
Emma (2009)
This adaptation, on the other hand, is exactly what comes to mind when I think about Emma. It's a four-episode BBC miniseries and it's so much fun. (I really want to rewatch it. Basically at all times.) I think it really captured the characters perfectly, showing Emma's annoying side without making her too unlikeable. And the actors who play Emma and Knightley have the best chemistry.
Rating: ten thousand a year
Emma Approved (2013-2014)
Made by the same people who made The Lizzie Bennet Diaries, this Youtube series turns Emma into a life coach slash matchmaker who gets way too involved in her clients' lives. It's wonderful. It's hard not to compare it to TLBD, which is still the best literary webseries out there (in my opinion), but it's still extremely well made and does a wonderful job of showing Emma's character development. Plus, she and Alex (Knightley) are super cute.
Rating: nine thousand a year
Northanger Abbey (1818)
Northanger Abbey (2007)
Since this is the only adaptation I've seen so far, I don't have much to compare it to, but it's a wonderful adaptation of Austen's most lighthearted book. Catherine is really cute – I think this movie does a good job of highlighting how young and naive she is. (I kind of can't believe that Felicity Jones was 23 when they made this.) It also makes me want to run away to some haunted castle in England, but maybe that's just me.
Rating: eight thousand a year
Persuasion (1818)
Persuasion (2007)
Of all of Austen's novels, I think Persuasion is probably the most difficult to adapt to screen, but I think this film does a fairly good job of it. It's very definitively from Anne's perspective and I think it does a good job of getting inside her head and making her likable. Excluding that really awkward scene at the end with Anne running through Bath for like three minutes straight, it's a pretty solid movie. Still think this book has the potential for some really interesting new takes. (All I'm saying is that it could be an amazing modern retelling.)
Rating: six thousand a year
Are you a fellow Austen lover? Do you love any of these adaptations? Which ones should I check out next?