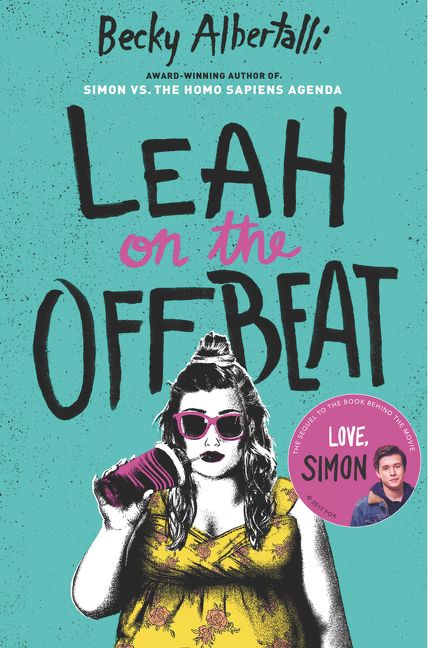 Author: Becky Albertalli
Published April 24, 2018 by HarperCollins
352 pages
Genre: YA contemporary, lgbt+
Date finished: April 24, 2018 
Summary (from Goodreads):
Leah Burke—girl-band drummer, master of deadpan, and Simon Spier's best friend from the award-winning Simon vs. the Homo Sapiens Agenda—takes center stage in this novel of first love and senior-year angst.
When it comes to drumming, Leah Burke is usually on beat—but real life isn't always so rhythmic. An anomaly in her friend group, she's the only child of a young, single mom, and her life is decidedly less privileged. She loves to draw but is too self-conscious to show it. And even though her mom knows she's bisexual, she hasn't mustered the courage to tell her friends—not even her openly gay BFF, Simon.
So Leah really doesn't know what to do when her rock-solid friend group starts to fracture in unexpected ways. With prom and college on the horizon, tensions are running high. It's hard for Leah to strike the right note while the people she loves are fighting—especially when she realizes she might love one of them more than she ever intended.
My thoughts
⚠⚠⚠ SPOILERS FOR SIMON VS. THE HOMO SAPIENS AGENDA⚠⚠⚠
(spoiler-free for Leah) 
I'm still trying to process the fact that this book is real and not something I dreamed up. Like, that really happened. Everything that I was hoping for really came true. This is real life and I'm living in a world where this book is canon and not my imagination.
Wow.
So uh . . . this book came out on Tuesday, right? My friend preordered it and read the entire thing by dinner, gave it to me, and I read the entire thing before bed. (And I watched Black Panther in there as well.) It was amazing, because I got to experience the entire book so incredibly quickly, but also I read it so fast that I want to reread it just to catch all the little things I might not have appreciated the first time through. And I want to reread Simon. Oh boy, I'm a mess.
Characters…
We got basically all the major characters back from Simon! Some of the annoying ones (*cough* Martin) were not so prominent, and some of the minor ones, like Anna, Morgan, Garrett, Nora, and Cal, became more major. Which was really cool! I'm way too invested in this world and these characters!!
Leah Burke, queen of my heart, was such a wonderful narrator. I love her voice so much. She's snarky and rude a lot of the time (the quintessential Slytherin, as she herself points out numerous times), but sometimes she gets so mad at herself for acting that way, especially when it's toward the people she really loves. She's got this extremely soft side of her that we saw a little of in Simon but that becomes so important in this book. Not to mention there's this part of her that's insecure, about her attitude, her art, her sexuality – she won't even tell her best friend that she's bisexual, even though he's gay and she knows he'll be fine with it. Even though she can come off as hard and intimidating, she's constantly scared of what other people think of her and convinced that everybody in the world is braver than she is.
We got to see so much of Simon and it made me so happy!! He continues to be the absolute fave. I love his friendship with Leah and I love how well they know each other and I love how incredibly clueless about everything he is. Seriously, he's the dumbest. (And he's a Hamilton nerd!! I thought I couldn't love him any more!!) I'm so happy that we also get to know Bram better in the book, as more than just Blue. And Simon and Bram as the sickeningly adorable couple that everyone knows is going to get married someday? SIGN ME UP. (That promposal, though. 😍)
Abby, of course, returned as a major character, and we get a new side of her that isn't seen so much in Simon. (Sidenote: we also get mentions of Molly and Cassie from The Upside of Unrequited! Yay!!!) One major character development moment for her is that she finally reads Harry Potter, and I'm really proud of her for that. Abby's relationships with various characters, and her identities both as a relative newcomer to the friend group and as a black girl, were really explored in this book, which I appreciated.
Plot…
This book takes place during their last couple months as high school seniors. It's not very plot-heavy; most of the focus was on the characters and their relationships. A lot of the book is spent on Leah practically dying about her crush. I don't want to spoil too much, but much of the plot is spent on the gang doing cliche end of high school things and Leah subsequently wondering how her life turned into a cliche teen movie. It's wonderful.
Writing…
As always, Becky Albertalli blows it out of the water. She has this way of writing teenagers that feels so real. We don't really see inside Leah's head during Simon (since, obviously, it's from Simon's perspective), and this book managed to show this whole new side of her that's different from how Simon perceives her but also aligns with her character in that book. There are about five million Harry Potter references, which I greatly appreciate. Becky Albertalli really knows her audience. Leah's voice was wonderful and hilarious, yet distinctive from Simon's and Molly's voices.
Plus, she does such a wonderful job of making us empathize with the characters. Leah's happiness makes me happy, Leah's anger makes me angry. It shows the strength of her character building and her abilities as a writer. Really, I have no complaints whatsoever.
Overall feelings…
This was one of my most anticipated books of the year and I couldn't be happier with how it turned out. It made me so happy while I was reading it that I was just grinning like an idiot most of the time that I was sitting in the library. And there were multiple moments when I actually laughed out loud. There were plenty of gasp-worthy moments, and teary moments, and swoon moments. It was all over the board with this one and I felt like I was waking up from a wonderful dream when I finished.
"And in that moment – for a split second – I feel it. How short that is. How soon everything changes. It's strange, because good-byes are a thing I can understand intellectually, but they almost never feel real. Which makes it hard to brace for impact. I don't know how to miss people when they're standing right in front of me."
Similar books: