I was tagged a little while back by Sophie at Sophie's Corner to do this tag, so a big thank you to her! Go check out her awesome blog!!
1. How many books is too many books in a series?
Oh man, I don't really have an answer to this. These days, it's tougher for me to get into a series that has more than three books (even then, it can be a challenge), but if the series is good enough I'll never complain about more books. Like, I could read the seven Harry Potter books every year until I die without getting sick of them. And I do still own all twenty-something Redwall books.
2. How do you feel about cliffhangers?
EVIL!
Really, it depends on the cliffhanger and on the context. If it's at the end of a chapter, I kind of love it because it gives me an excuse to keep reading. If it's at the end of a book, and the next one doesn't come out for another year, then I suffer. And if it's a really lame cliffhanger, like something will take only one chapter to resolve in the next book, then I'm not too into it. I think there can be really good cliffhangers, though.
3. Hardback or paperback?
Paperbacks because they're cheaper lol.
4. Favorite book?
EVER??? How could you ask me this???
But yeah, we all know the answer to this one.
5. Least favorite book?
I tend to block out the books that I really hate from my memory. It's tough to point at one specific book and say that's my least favorite. Although I did read The Foxhole Court last year and really dislike it, and that's the only thing coming to my head right now.
6. Love triangles, yes or no?
For the most part, no.
But there are exceptions to every rule.
7. The most recent book you just couldn't finish?
Probably a book for school hehe….don't tell any of my professors. I don't usually DNF books to be honest.
8. A book you're currently reading?
Uprooted by Naomi Novik! I'm not super far into it yet, but I'm enjoying it so far! It's reminding me of the fairy tale-esque fantasy books I used to read when I was younger, like Robin McKinley and Gail Carson Levine.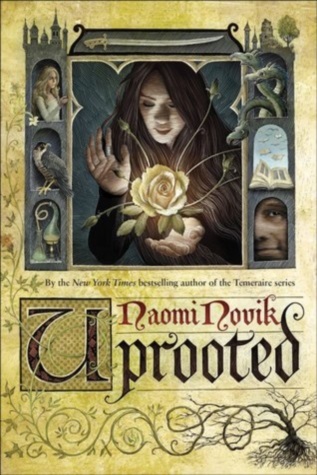 9. Last book you recommended to someone?
I (sort of aggressively) recommended Radio Silence by Alice Oseman to one of my classmates the other day oops.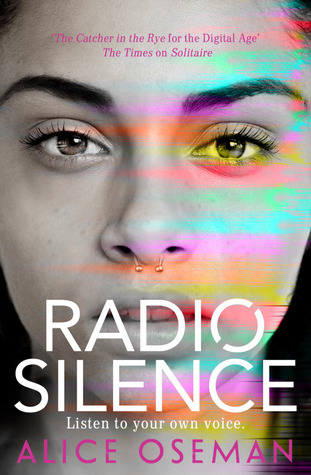 10. Oldest book you've read? (Publication date)
According to Goodreads, it's The Taming of the Shrew by William Shakespeare, published in 1593.
11. Newest book you've read? (Publication date)
That would be Leah on the Offbeat by Becky Albertalli, published April 24!
12. Favorite author?
Oh nooooo, don't do this to me! There are too many!
An abridged list of some of my favorites: J.K. Rowling, Shannon Hale, Jane Austen, Becky Albertalli, Maggie Stiefvater, Kristin Cashore, and Patrick Ness.
13. Buying books or borrowing books?
Borrowing books, because I don't have nearly enough money to buy all the books I want to own. Libraries are my friends! (But like….there's nothing better than actually getting money to spend on books, is there? Let's be real.)
14. A book you dislike that everyone else seem to love?
I didn't dislike, per se, but I didn't love Daughter of Smoke and Bone by Laini Taylor, and that seems to be one that a lot of people have strong feelings about.
15. Bookmarks or dog-ears?
Bookmarks, for heaven's sake!
I used to be totally ambivalent about this (and all my old books show the evidence) but now I cringe a little every time I think about it. Don't know what changed.
16. A book you can always reread?
Besides Harry Potter, I'd say The Book Thief by Markus Zusak and The Goose Girl by Shannon Hale, both of which I've read more times than I can count.
17. Can you read while hearing music?
I can't listen to music with lyrics. But even instrumental music can get annoyingly distracting if it doesn't fit the mood of the scene, so I tend not to listen to music in general.
18. One POV or multiple POV's?
My personal preference is for one POV, but this is not to say at all that I can't love books with multiple POVs. I think it can be done really, really well. But if I had the choice, I'd choose a single POV.
19. Do you read a book in one sitting or over multiple days?
I'm a college student and I literally do not have time to read books in one sitting. I actually get stressed if I spend too much time doing one single activity, which is…not great. I have to read in small chunks.
20. A book you've read because of the cover?
Not going to lie, the cover was the main reason I was first drawn to this book. Also, the title was so intriguing! I wanted to read it even more when I learned what it was about, but the cover was originally the main sell for me.
Thanks again to Sophie for tagging me! I had a lot of fun answering these questions!
If you're reading this and you're interested, then I tag YOU! Here's your excuse to ramble about yourself for a couple hundred words 😉
What are your feelings on cliffhangers? Have you aggressively recommended any books to anyone lately? What's the oldest book you've read?
x Margaret