Welcome to the last day of Harry Potter Week! We made it, everybody!
Today, June 26th, marks 21 years since Harry Potter and the Philosopher's Stone was published in the UK. Isn't that incredible?? So in true Harry Potter fashion…
Today is going to be a thank you note to the one and only J.K. Rowling, our queen. So *deep breath* here goes.
Dear Jo,
I can call you Jo, right? I know we don't technically know each other, but when someone changes your life so profoundly, I feel like that's a good reason to be on a first name basis.
Just so it's less awkward, here's a little about me:
My name is Margaret. I'm twenty. (Twenty-one in two weeks, which means I'm barely younger than Harry Potter!) I picked up Sorcerer's Stone in my third grade classroom when I was eight, and my life has never been the same since.
I can't even begin to explain the impact Harry Potter has had on my life. It has been the foundation for so many lasting friendships and built countless happy memories. It has helped carry me through hard times and bring me joy in good times. It has taught me so much – about myself and about how I should look at the world around me.
Not only that, but it has created a community unmatched by anything else I've ever seen. Harry Potter fans spread their love for the series into every corner of the world, using the lessons that you've given us and the bonds we've formed to do so much good. And fans span every demographic, which means that I can find fellow Potterheads wherever I go! You've given us a way to connect with strangers and people with whom we otherwise might have nothing in common, allowing us to share something special.
And on a more personal note, you've given me a world that feels like home. I know I'm not alone in saying that Hogwarts feels real to me, in the sense that I can return to it over and over whenever I feel lost or alone. And if that's not true magic, I don't know what is.
Thank you, Jo, for your magic.
Love, Margaret.
In the words of David Tennant: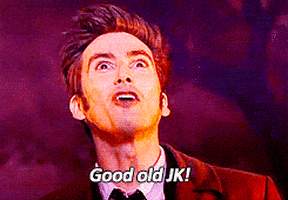 I'd also like to add on an enormous thank you to everyone who has joined me to celebrate Harry Potter in the past seven days! I've had an absolutely insanely busy week and had to squeeze in writing these posts whenever I had a spare second, but I've truly loved reading each and every one of your posts. It's so incredible to see how much Harry Potter touches so many people's lives in different ways.
As our dear, eloquent Harry would say:
HAPPY POTTERVERSARY EVERYONE!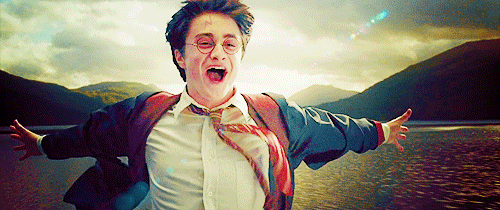 Here are the posts from the rest of the week:
Day two: Ranking the books and movies
Day six: In defense of book 5 Harry
Lots of love to you all!
x Margaret