"Dear Evan Hansen. Today is going to be a good day and here's why. Because today, no matter what else, you're you. No hiding. No lying. Just you."
Author: Val Emmich
Published Oct. 9, 2018 by Poppy
368 pages
Genre: YA contemporary
Date finished: July 6, 2018

Summary:
When a letter that was never meant to be seen by anyone draws high school senior Evan Hansen into a family's grief over the loss of their son, he is given the chance of a lifetime: to belong. He just has to stick to a lie he never meant to tell, that the notoriously troubled Connor Murphy was his secret best friend.
Suddenly, Evan isn't invisible anymore–even to the girl of his dreams. And Connor Murphy's parents, with their beautiful home on the other side of town, have taken him in like he was their own, desperate to know more about their enigmatic son from his closest friend. As Evan gets pulled deeper into their swirl of anger, regret, and confusion, he knows that what he's doing can't be right, but if he's helping people, how wrong can it be?
No longer tangled in his once-incapacitating anxiety, this new Evan has a purpose. And a website. He's confident. He's a viral phenomenon. Every day is amazing. Until everything is in danger of unraveling and he comes face to face with his greatest obstacle: himself.
A simple lie leads to complicated truths in this big-hearted coming-of-age story of grief, authenticity and the struggle to belong in an age of instant connectivity and profound isolation.
My thoughts (spoiler free)
It's been a hot minute since I posted a review, huh?
I was lucky enough to grab an ARC of this book at BookExpo, which was very exciting since Dear Evan Hansen has been one of my favorite musicals for over a year. Little did I know that I would actually have the opportunity to see it on stage in Broadway on my birthday! More on that later…
The long and short of it: I absolutely adored this book. I thought I knew the full story, having listened to the soundtrack approximately a million times on Spotify and reading everything I could about the show, but the novel gave me such a richer view.
Once I began reading this book, I couldn't put it down. I started it three days before seeing the show, hoping I would be able to read it on time, and I finished with two days to spare. And even though I knew what was going to happen, I still found myself gasping and clutching my heart every time something happened, because it was still too much for me to handle.
Plot…
If you know the plot of DEH, you know what this book is about. Evan accidentally makes everyone believe that he was best friends with a classmate, Connor Murphy, who committed suicide.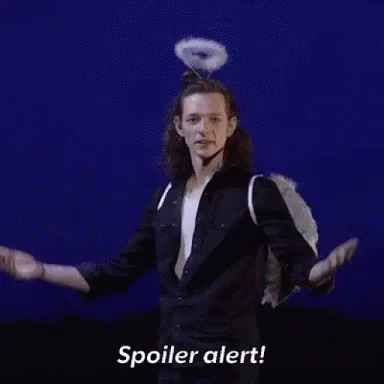 Just kidding, that isn't a spoiler.
Anyway, after a series of extremely stupid decisions, Evan ends up lying to everyone he cares about. The book doesn't stray from that frame; it just adds more detail. I really appreciated how we were able to get some of the in-between and filler scenes that wouldn't have made it into the show but enriched the novel.
I will say, though, that there's one detail in the book that is not in the musical at all. It was the part that shocked me the most and actually brought on the tears. No spoilers, but it has to do with Connor…
On a different note, I do love the overall message of this story. It's something that feels so important to remember – that everyone makes an impact in this world and even if you think nobody would notice if you disappeared, there will always be people who care. Not to mention the discussions of mental illness and suicide and social media.
(This song always makes me cry.)
Characters…
Evan Hansen, of course, is the main character of this story and the narrator of the novel. And what a painfully relatable narrator he was. Being inside his head could be frustrating and uncomfortable, considering how much he overthinks everything and constantly downplays himself, but it felt so real. Evan is the kind of person who is both petrified that everyone is judging everything he does, while simultaneously feeling invisible to the world. Even though he makes so many bad decisions in the course of the book, I can't help but empathize with him because, let's be real, who hasn't felt like that?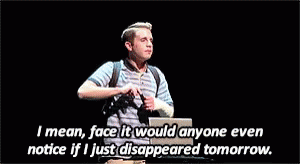 (I keep using Ben Platt gifs but I didn't even see the show with Ben Platt oops.)
Connor Murphy ends up being a pretty major player in the novel, even though its his death that sparks the whole conflict. Again, I don't want to give too much away, but this book provided much more on Connor's character. I felt like I understood him, whereas in the show, most of the information we get about him is through other characters' perspectives. Before, I was like "yeah, Connor's fine" but now I'm like "I WANT TO GIVE HIM A HUG AND PROTECT HIM" even though I can't because he's dead.
This book has a colorful cast of other characters as well, including Jared, Evan's best "family friend," who helps Evan create the illusion that he and Connor were friends. There's also Zoe Murphy, Connor's sister. Just listening to the soundtrack, I was least interested in her character, but the book really showed new depth to her that made me appreciate her more. And there's Alana, Evan's classmate, who's very book 1 Hermione (aka: annoying and bossy and insecure). Bless her. Finally, there's all the parents: Heidi, Evan's mom, who is just doing her best, and the Murphys, Larry and Cynthia, who are hardcore struggling. All of the characters have their own stories and strong personalities that add a lot to the novel.
Writing…
It really was an incredibly well-written book.
I honestly don't have any complaints. I felt like I was in Evan's head the whole time, struggling along with him. I became so engrossed in the story that I flew through it, reading 200+ pages in a single sitting without paying any attention to the passage of time. It was one of those books that pulled me in and didn't let me go until it had made me suffer a rollercoaster of intense emotion and wrung me dry of tears.
There were plenty of times during the book that I actually forgot it was based on a musical because I was so immersed in the world. I would have to stop and remind myself "oh yeah this is where that song would fit in" because the story flowed so smoothly even without the music that I felt like it was almost a separate entity.
Compared to the show…
As I mentioned earlier, I had the amazing opportunity to see the musical on Broadway recently, on my twenty-first birthday!
It was my first time seeing a show on Broadway, and I could not have asked for a better experience. (Even though I cried my eyes out.)
Obviously, reading a book and seeing a Broadway musical are two massively different experiences. I loved being able to hear- and especially see – all the songs that I'd been listening to for the past year and a half. All of the actors were incredible – there's no other word for it. They perfectly embodied the characters I was reading about in the book.
I've already talked about how closely the plots align between the book and the show – I'd say the biggest difference between the two is how they portrayed Connor. And I honestly can't decide which I liked better! The book gave me a stronger sense of his character, but I loved that in the show he was just a part of Evan's imagination come to life.
While I try to puzzle that out, I'll just have Sincerely, Me on a permanent loop in my head.
On a somewhat unrelated but still important note, I went to the stage door after the show and had some of the cast members sign my copy of the book! And apparently they haven't read it yet! Which means Connor doesn't know about the thing. I'm so upset that I can't talk about it without spoiling anything. If anyone else has read it please come talk to me because I have FEELINGS. 
Overall feelings…
I know it may come as a shock, because I've only spent about 1.5k words talking about it, but I really loved this book. It came from a story that I dearly love, and it ended up being one of the most engrossing and emotional books I've read this year.
I really do think that you can read this book without knowing a thing about the musical. Nevertheless, if you haven't already, go listen to the soundtrack! And please, for the love of God, buy this book when it comes out in October!
Similar books: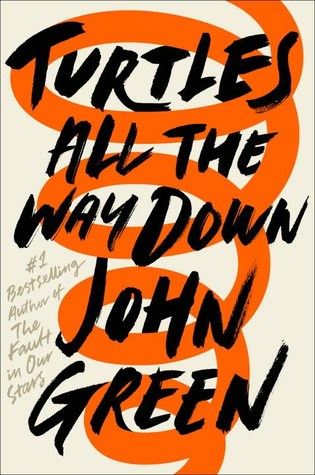 x Margaret