I've been reading a lot of books really quickly lately, and I just don't have time to write full reviews on all of them! So here are a few quick thoughts on several that I've read recently.
Solitaire by Alice Oseman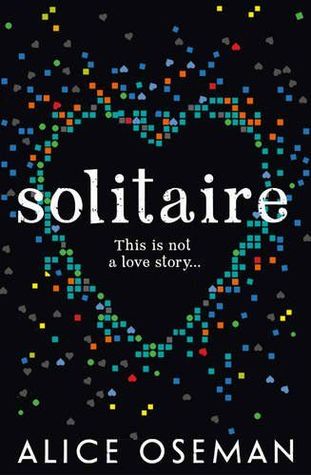 Alice Oseman's first book, written when she was eighteen, is about Tori Spring, who doesn't care much about anything. That is, until she befriends a strange boy named Michael Holden and a mysterious group called Solitaire starts doing pranks at her school.
While I do think Alice Oseman has a way of getting inside the head of a teenager that most writers can't manage, this book felt like a not-as-good version of Radio Silence, which has been one of my favorite reads of this year so far. I found Tori to be a rather annoying narrator. Her cynicism was clearly meant to be criticized and seen as typical teenage angst, but it got a little tiresome to hear about how much she hates everything. I almost wanted to count how many times she said "I hate x" because it started to get ridiculous at a certain point.
For me, this was a bit disappointing to read after Radio Silence, since I couldn't stop comparing the two, and Solitaire felt less polished and cohesive. I was interested in the story and the characters, since I do really think Oseman does a wonderful job with getting the reader invested, but the whole time it felt like it was missing something. Still, I did really love seeing Nick and Charlie from Heartstopper! I think Alice Oseman has come a long way in her writing and I'll just stick with her later works, thanks.
Nothing Happened by Molly Booth
This retelling of Much Ado About Nothing (aka my favorite Shakespeare play) takes place at a summer camp in Maine, where drama flourishes between camp councilors. Bee and her sister Hana are at the center of it, as ill-advised crushes, misunderstandings, romantic schemes, and Capture the Flag combine into a mess of a summer.
I don't know how I didn't realize before reading this book that a summer camp is the best place for a YA retelling of a Shakespeare comedy. Where else can you have a bunch of teenagers with minimal adult supervision in tight quarters and a huge rumor mill? Besides high school, of course, but that's just too easy. This book is just as dramatic, unnecessarily convoluted, and adorable as you could possible hope.
The sister relationship between Bee and Hana was one of my favorite aspects of the novel, especially since Bee is adopted from Ethiopia, and guess who else has an adopted Ethiopian sister? Me! I thought that aspect was handled really well, at least from my own experience. And Bee and Ben's will-they-won't-they was just as hilarious and adorable as it should have been. There were a lot of characters, some of whom were pretty minor, but for the most part the important ones were well fleshed-out, with their own motives and hopes. This book wasn't mindblowing, it was sometimes a bit predictable and cliche, but it was extremely enjoyable to read and I think it did credit to Shakespeare's original work.
All Out edited by Saundra Mitchell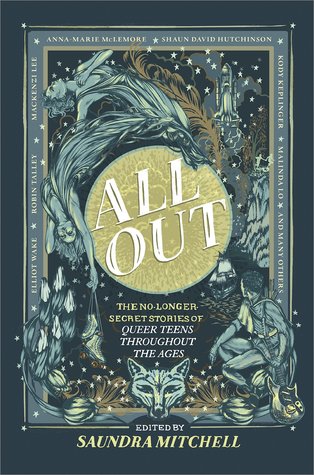 This anthology is full of stories of queer teens, and it was delightful and adorable. Even though I wish there had been a little more diversity in location (most of the stories were set in Europe or America), I had a great time ready all of the stories, and none of them were rated less than 3 stars! Here's my breakdown:
Roja by Anna-Marie McLemore: 3.5 stars
The Sweet Trade by Natalie C. Parker: 4 stars
And They Don't Kiss at the End by Nilah Magruder: 5 stars – I thought this one was just adorable, with aroace representation and chock-full of Pride and Prejudice references. It gave my heart the flutters.
Burnt Umber by Mackenzi Lee: 5 stars – I just love her writing style SO MUCH. The main character was a MESS and the second-hand embarrassment was so real, but as usual, it had me laughing out loud and enjoying every second.
The Dresser and the Chambermaid by Robin Talley: 4 stars
New Year by Malinda Lo: 4.5 stars
Molly's Lips by Dahlia Adler: 4 stars
The Coven by Kate Scelsa: 4.5 stars
Every Shade of Red by Elliot Wake: 5 stars – This was the Robin Hood retelling I never knew I needed. So much happened in a short number of pages, but I would read this as a full length novel! (My notes for this story just say "my longest yeah boy ever.")
Willows by Scott Tracey: 3 stars
The Girl with the Blue Lantern by Tess Sharpe: 3.5 stars
The Secret Life of a Teenage Boy by Alex Sanchez: 4 stars
Walking After Midnight by Kody Keplinger: 4.5 stars
The End of the World As We Know It by Sara Farizan: 4 stars
Three Witches by Tessa Gratton: 4.5 stars
The Inferno and the Butterfly by Shaun David Hutchinson: 4 stars
Healing Rosa by Tehlor Kay Mejia: 4 stars
Imposters by Scott Westerfeld
ARC received at BookExpo. Release date is Sept. 11.
In this first book in a new series in the Uglies universe, twins Frey and Rafia are raised to step into different roles: Rafia as the public face for their politician father to gain approval, and Frey, a secret to the world, as her body double and protector. This all changes, though, when Frey is sent in Rafia's place as a hostage in a dangerous deal.
Considering that I never finished the Uglies series because I didn't love the first book, I was surprised by how much I enjoyed this one! It took me a second to find my footing, since I was unfamiliar with the world, but I don't think you necessarily need to have read Uglies to understand what's going on (though I do think I would have appreciated more if I had).
Frey was such an interesting main character, since much of the book is comprised on her finding an identity that's separate from her twin sister. Though she was extremely badass in certain situations, her uncertainty and confusion in others made her so relatable, and I immediately took to her. I enjoyed the relationship that develops between her and another major character – the tentative trust and attraction that feels important but doesn't overshadow other main conflicts. The story itself was fast-paced and exciting – I never knew what was coming next, and it went in directions I was not expecting. And I must say, Scott Westerfeld really knows how to write an action scene.
Have you read any of these books or plan to pick them up soon?