Today is my first day of classes, my last first day of school ever (yikes), so I guess that means it's officially no longer summer for me. Fortunately, fall is my favorite season (even if it does mean back to school), and I can't wait to crunchy leaves and sweaters and pumpkins everywhere! And it's the perfect time of year to read some amazing books! Here are my top nine book recommendations to read in the fall.
Six of Crows by Leigh Bardugo
Six criminals are hired to pull off an impossible heist. I don't know what you need beyond that. It's basically Ocean's 11 but fantasy.
This book, along with its sequel Crooked Kingdom, has the perfect dark, grim atmosphere to read on a gloomy autumn day. I mean, look at that cover and tell me it doesn't scream October weather. I can't think of any better way to combat the changing weather than reading about six damaged teenagers and their growing relationships and extremely grey morality. So if for whatever reason you haven't gotten around to picking up this duology, this fall is the time to do it!
Station Eleven by Emily St. John Mandel
Fifteen years ago, a virus wiped out 99% of the population, and now only the barest traces of civilization remain. Five characters' lives are intertwined as the story moves between various time periods, from before the virus struck, following an aspiring actor and the people around him, to years after the virus, as a traveling Shakespeare troupe ventures through the ruins of humanity.
This book, described by the author as a love letter to the modern world, is somehow both dark and beautifully hopeful, not unlike the fall season. As you read about the decay of civilization and the lengths people go to retain their humanity, you can watch the decay of leaves and the lengths people go to bundle up against the cold! (Maybe a bit of a stretch…) But seriously, I can't think of a better time of year to read this book.
Graceling by Kristin Cashore
In a fantasy world where certain people are born with special abilities called Graces, Katsa is Graced with killing and has grown up as a thug for her royal uncle. Everything changes, though, when she meets a man named Po and teams up with him to uncover a secret in a neighboring kingdom.
I can't put my finger on exactly what about this book makes me think it should be read in the fall, but it has that vibe. This kind of epic high fantasy, full of beautiful language, amazing female characters, and one of the best fictional romances ever, seems like the perfect read for the days transitioning into the cold.
History Is All You Left Me by Adam Silvera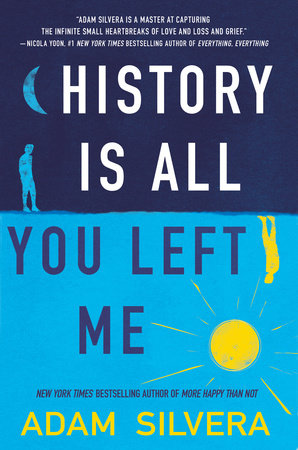 Griffin's best friend and ex-boyfriend has just died, leaving him scrambling to make sense of a world without Theo. Then, at the funeral, he meets Theo's new boyfriend, Jackson, the only person who fully understands Griffin's grief but the last person he wants to see. Though Theo is gone, Griffin must put together his present reality by making sense of his history.
I basically cried through this entire book, so there's really no other time of year that I think it would be acceptable to drown yourself (too soon?) in sadness and this beautiful story. Its melancholy mood, despite its ultimate themes of perseverance and survival, fits right into the gloom of the fall season.
The Darkest Minds by Alexandra Bracken
A disease kills off most of America's children, leaving the survivors with strange abilities that nobody understands. Ruby is one of these survivors, and she is sent to a "rehabilitation camp" with other children like her, until she seizes the opportunity to escape and finally push back against the people hunting her.
This book has such a dark atmosphere that I can't imagine a better time to read it than during the fall. Even the color scheme on that cover seems to agree with me! Plus, the epic kids vs. adults conflict might make going back to school seem a little more bearable. If you want more of my thoughts on this book, real my full review here.
Dear Evan Hansen by Val Emmich

Based on the Broadway musical, this novel follows Evan Hansen after a letter he wrote to himself is found with a classmate who committed suicide. Unwilling to admit that he wasn't friends with Connor Murphy, he maintains the lie as it grows bigger and out of his control.
For anyone dreading the return to school this fall (like me), this book is the perfect one to pick up. It deals a lot with anxiety, the pressures of social media, grief, and loneliness, all pretty dark (aka autumn-ish?) themes. Plus, it helps that it takes place almost entirely during the fall. Go pick up this book when it comes out October 9th! More of my thoughts can be found in my full review here.
A Darker Shade of Magic by V.E. Schwab
Kell is one of the few people who can walk between parallel Londons: Grey, Red, White, and Black. He works secretly as a smuggler, but when a deal goes wrong, he teams up with a thief named Lila who's eager for an adventure that spans across multiple worlds.
This is one of the most exciting and creative urban fantasy stories out there, which obviously means it should be devoured well into one of those dark, late fall nights when everything seems 500% spookier. I don't have much of a reason beyond that, besides the fact that I read it during the fall (when I was living in London, so I was constantly looking for ways to step between worlds like Kell), so that's what I associate it with.
Simon vs. the Homo Sapiens Agenda by Becky Albertalli
Simon Spier isn't quite ready to come out to the world, despite having a sort-of relationship over email with a mysterious boy who calls himself Blue. When these emails are discovered, though, Simon finds himself being blackmailed into manipulating his friends' lives, or else everyone will find out his secret.
To balance out some of the darker and sadder books on this list, here's a nice, cheerful, feel-good book for the fall season! Not only does much of this book take place during the fall (including a Halloween scene), but it seems to me like the perfect book to warm your heart as the weather turns cold. So if you somehow haven't gotten around to reading this book, this fall is the perfect time!
A Monster Calls by Patrick Ness

Connor's mother is sick, getting worse every day, but he isn't quite ready to face what that means. That is, until a monster comes to his window one night, too real to be a dream, wanting to tell three stories.
This beautiful, heartbreaking story has the perfect spooky atmosphere for the Halloween season. It's not about cheap scares, though, but about confronting the truth and dealing with grief. The stormy, black-and-white illustrations by Jim Kay add so much to the mood of the book and help it pack a solid emotional punch that you won't forget anytime soon.
Good luck to everyone going back to school! We can make it through!
Do you agree with my fall recommendations? What books do you like to read in the fall?