Hello and welcome to the end of the month!
August is ending, which means school is back up (*cries*) and summer is winding down. (Though somebody needs to tell the weather that, because I'm ready to be done with 80+ degrees every day.) The past few months of summer, thanks to my busy schedule, I wasn't reading a ton, but in August I was able to read a whopping 13 books!
Since I read so many, I'm not going to go very in depth on my thoughts on most of them, especially since I already have reviews posted for a few. But here are all the books I read in August!
Books I read this month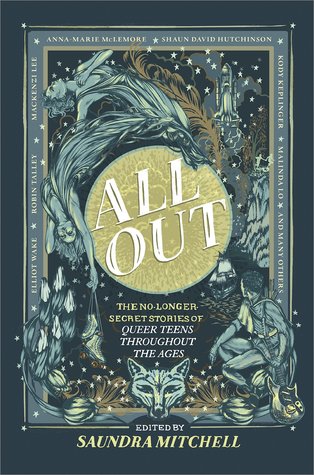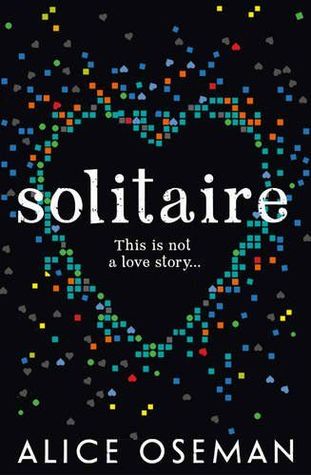 All Out edited by Saundra Mitchell ★★★★/5
Solitaire by Alice Oseman ★★★.5/5
Spinning by Tillie Walden ★★★★/5
This graphic memoir tells of Tillie Walden's twelve years as an ice skater, giving me a glimpse into a world and a sport that I don't know a ton about. Also, I went in thinking that this took place a long time ago, but then the character made a reference to Twilight and, a Google search later, I discovered that the author is only one year older than me. So that was wild. But I really enjoyed reading this. I flew through it, since it was a graphic novel, and I was transfixed the whole time. It didn't feel totally coherent as a story, which I guess is fine, since it's a memoir and real life doesn't create as linear stories as fiction. But I found Tillie to be a fascinating narrator with a compelling story to tell.
Nothing Happened by Molly Booth ★★★★/5
Imposters by Scott Westerfeld (ARC) ★★★★/5
The Summer of Jordi Perez (And the Best Burger in Los Angeles) by Amy Spalding ★★★★/5
This was the feel-good wlw summer romcom I never knew I needed. The main character, Abby, is thrilled to land an internship at a local boutique, until she learns that she's not the only intern. Now she and Jordi Perez are competing for the part-time position for the fall, and to make matters more complicated, Abby may be developing a crush. This book filled my heart with rainbows and joy. If you're ever looking for something light and heartwarming, this is your book. It wasn't terribly complicated, and it felt pretty low stakes the whole time, but it was also extremely low-stress and satisfying.
The Gentleman's Guide to Vice and Virtue by Mackenzi Lee ★★★★★
This was a reread for me, anticipating the release of The Lady's Guide to Petticoats and Piracy in October, and this book was just as amazing and fun as I remember. I honestly can't praise it enough. The story, set in 1700s Europe, follows Henry "Monty" Montague on his misadventures during his Grand Tour alongside his best friend (who he's in love with) and his sister (who he strongly dislikes). While the writing is hilarious and has me laughing on almost every page, it also packs an emotional punch with Monty's character growth and his relationships with his travel companions. I would be happy rereading this book every month – and I can't wait for more of Felicity's story in Lady's Guide!!
Shadow and Bone by Leigh Bardugo ★★★/5
I read this because, after reading Six of Crows last year, I want to learn more about the Grishaverse. Also, with King of Scars coming out in a few months, I want to understand what's going on! I knew from the start that this wouldn't quite live up to Leigh Bardugo's later works, so I wasn't necessarily disappointed, but I still wished I'd gotten a little more from this one. It felt a little trope-y, the Darkling was creepy as heck, and I didn't find Alina to be a terribly interesting narrator – though the worldbuilding was fantastic (as usual). I still need to finish the rest of the series, for Nikolai's sake, and I'm hoping that I'll enjoy it more!
Ancillary Justice by Ann Leckie ★★★★/5
This book follows Breq, once an artificial intelligence that spanned an entire starship, now hidden in a human body and on a quest against the Radch empire than spans the galaxy. Moving backward and forward in time, the stories intertwine to reveal Breq's mission and her motives. You really are dropped right in the middle of a brand new and unfamiliar world without any hand-holding, forced you to piece together what's happening on your own. The worldbuilding was absolutely unparalleled – I got the sense that there was so much more that wasn't even included in the book – and even though it took me a few hundred pages to feel like I really had my footing in the setting, I was also constantly impressed by it. I also loved the questions of gender and artificial intelligence and imperialism and so much more that this raised. It felt like such a sophisticated science fiction that I don't feel like I can do it justice without reading it at least a half dozen more times.
That's Not What Happened by Kody Keplinger (ARC) ★★★★★
Alex and the Ironic Gentleman by Adrienne Kress ★★★.5/5
This is a middle grade story about a girl named Alex who gets swept up in an exciting adventure involving pirates, treasure maps, singing hotel managers, and a giant octopus, on a quest to save her sixth grade teacher. It was fun and whimsical and silly, clearly meant for a younger audience than me, though it did fly by quickly. The writing reminded me a lot of Lemony Snicket, so if you love A Series of Unfortunate Events, you just might love this book too.
The Prince and the Dressmaker by Jen Wang ★★★★★
This graphic novel follows a young Parisian dressmaker named Frances, hired by Prince Sebastian and asked make dresses for his alter ego, Lady Crystallia, who goes out each night and becomes the fashion icon of Paris. While Sebastian tries to hide his secret, Frances struggles with having to hide her talent from the world in order to protect him. This book was just the cutest thing ever – the art was vibrant and adorable and made me fall in love with the characters instantly, and the story filled my heart with joy. If you ever need something sweet to remind you of the good in the world, pick up this book. I cried happy tears.
Anger Is a Gift by Mark Oshiro ★★★★.5/5
I want to have a full review of this up soon, but in the meantime here's a sneak preview!
Moss' high school seems more and more like a prison, with random locker searches and metal detectors and police officers patrolling the halls. When the students push back against the new regulations, though, tensions reach a breaking point and Moss must learn to use his anger for activism. I loved almost everything about this book, because it was ultimately about how we can create change in our world by standing up for what we believe in. Moss was an incredible narrator and I felt for his journey the entire time. This feels like such an important book which everyone should be reading.
Other Things
To All the Boys I've Loved Before
Even though I still haven't read the book (shame on me), I watched this movie on Netflix because everyone is talking about it. And it was so cute!!! It definitely convinced me to go read the book. Lara Jean was just the cutest character – her facial expressions throughout the whole movie had me cracking up, and I loved her character growth and the relationships she had with her sisters. I actually watched this twice this month (oops) and both times I was thoroughly entertained the whole time. I can't wait to read the books and learn more details about these characters that didn't make it into the movie! Does anyone know if the rest of the books in the series are going to be adapted?
Crazy Rich Asians
Even though I didn't absolutely love this book when I read it in July, I found myself loving this movie. It was so glittery and Gatsby-esque and colorful and fun! My main problem with the book was the writing style, which obviously wasn't a problem in the movie, so that's probably part of the reason I enjoyed it more. Also, I felt like the ending of the book wrapped up too quickly, whereas the movie's ending was much more satisfying. All the actors were incredible, especially Constance Wu as Rachel. I'm so happy that a movie like this with an all-Asian cast is such a success, and hopefully it will open the path up for more movies like this to follow!
September TBR
With school starting again, I have once again have very little time for reading (*cries again*). But here are a few of the books I hope to get to this month in my limited free time!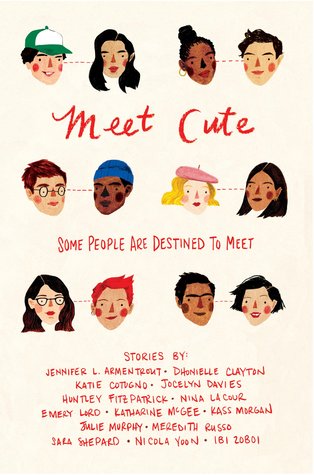 Meet Cute edited by Jennifer L. Armentrout
Dread Nation by Justina Ireland
And the Ocean Was Our Sky by Patrick Ness and Rovina Cai
Never Fade and In the Afterlight by Alexandra Bracken
What books did you read in August? What were your highlights of the month?
x Margaret