Tomorrow, October 9, is the release date for Dear Evan Hansen: the Novel by Val Emmich!
I've been hyping this book pretty much non-stop since I read it back in July, so I wanted to celebrate its release – and my love for the musical – by creating a brand new Dear Evan Hansen Book Tag! A few of these exist out there on the internet, but I wanted to create my own version.
The questions for this tag come from the songs of the musical, which the book is based on. If you haven't listened to it, go do that now!! Words fail to describe how much I love it. And if you're curious about the book, you can read my review or take a look on Goodreads! I'm so excited for this book to be out in the world.
Now let's get into the tag!

Anybody Have a Map? – A book with amazing worldbuilding
Ancillary Justice by Ann Leckie
The worldbuilding in this book is so complex that I got the sense that I only got to know a tiny fraction of this world. Since this book takes place in a vast intergalactic empire, that makes sense. All the places in this book were fleshed out and unique. I can't wait to read the rest of this series and explore the world more!
Waving Through a Window – A character that you identify with
Frances Janvier from Radio Silence by Alice Oseman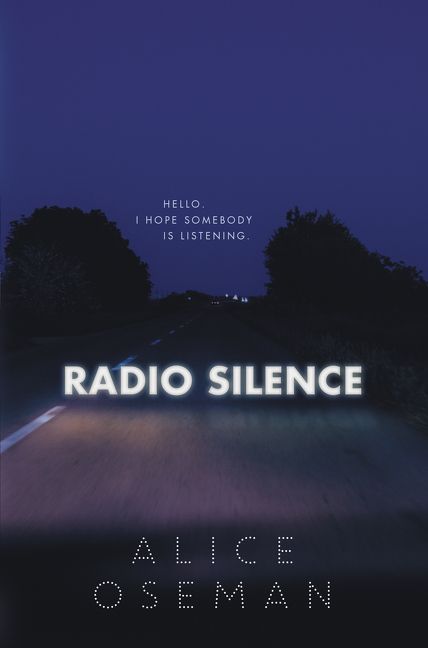 Frances is basically who I was in high school (and in college to a certain degree). Singularly focused on academic success but not really finding fulfillment in it, and secretly the biggest nerd out there. I related so hard to Frances and I love her dearly.

For Forever – A book with a strong friendship
The Raven Cycle by Maggie Stiefvater
This whole series is basically nonstop friendship GOALS. Every single one of the relationships among the main group is so complex and interesting and unique in its own way, and these books make me want to get a group of friends and be cool and aesthetic and magical in some forests.

Sincerely, Me – A book that made you laugh
Space Opera by Catherynne M. Valente
This book is absurd and hilarious at every turn, keeping me entertained the entire wild ride. I listened to it on audio and there were times that I would be walking around with my earbuds in and just start cracking up out of nowhere and earn a lot of weird looks from passers-by.

Requiem – A book that you wanted to love but didn't
All the Crooked Saints by Maggie Stiefvater
I ended up DNFing this book, which was so sad since Maggie Stiefvater wrote one of my favorite series of all time. I just don't think it was the right time for me to read it. Maybe someday I'll return to it and discover a new appreciation.

If I Could Tell Her – A book couple that you're not on board with
Alina and Mal from Shadow and Bone by Leigh Bardugo
I've only read the first book of this series so far, so maybe my mind will be changed? But at this point I doubt it. I just was not feeling it with Alina and Mal, especially since much of their relationship we only hear about instead of seeing. Plus, it was a little cliche and far from the most interesting thing about this book.

Disappear – A book you wish more people knew about
The Goose Girl by Shannon Hale
I talk about this basically every single post, so this answer should come as no surprise. Even though The Goose Girl came out fifteen years ago, I still love it with my whole heart and I wish everyone in the world could read it and appreciate it as much as I do. I still recommend to basically everyone I talk to.

You Will Be Found – A book that makes you feel understood
Fangirl by Rainbow Rowell
This was the first, like, "nerdy" book I ever read, and I remember the first time reading it and feeling so happy that there was a character like Cath that I so strongly related to. My freshman year of college looked a lot like Cath's, so it felt good to know that I wasn't alone.

To Break in a Glove – A book that you didn't expect to like
Murder on the Orient Express by Agatha Christie
I don't usually like mysteries or many older books, but I felt like branching out and I'm so glad that I did! Agatha Christie is a classic for a reason – her books are so clever and engaging. I flew through this one and was kept guessing the entire time!

Only Us – A book couple you are on board with
Ben and Arthur from What If It's Us by Becky Albertalli and Adam Silvera
Maybe it's cheating to use a book that's literally named after this song, but I just read this book and I haven't been able to stop thinking about these two. Their love story is so sweet and heartwarming, giving me all the heart flutters that I love when reading fictional romance!

Good For You – A character that makes all the wrong choices (but you love them anyway)
Monty from The Gentleman's Guide to Vice and Virtue by Mackenzi Lee
Monty is such a disaster. He spends much of this book making increasingly stupid decisions and being utterly clueless…but it's such an entertaining ride that I can't help but love him. And his character development is perfect and makes me love him even more.

Words Fail – A book that makes you want to be a better person
The Book Thief by Markus Zusak
This book really restores my faith in humanity and reminds me of people's resilience and ability to do good even in the face of tragedy and atrocities. It pushes me to try to make more of a difference in my world and think about what I can do to embody the traits that I admire in these characters.

So Big / So Small – A good child/parent relationship
Ari's parents in Aristotle and Dante Discover the Secrets of the Universe by Benjamin Alire Saenz
This book as a whole is so uplifting and wholesome, but in particular the relationship that Ari has with his parents makes it even more so. Their relationship is a major part of this story and adds a lot to Ari's development as a character.

Finale – A book with a satisfying ending
Crooked Kingdom by Leigh Bardugo
This ending is satisfying for very different reasons that the DEH finale is satisfying, because for that I'm sitting there with tears streaming down my face while with Crooked Kingdom I'm like
Anyway, this book ends the series in such a satisfying way, leaving me a little heartbroken but also so proud of all the characters and wishing I didn't have to leave them.
Thanks for joining me for my self-indulgent musical loving book tag! And happy publication to Dear Evan Hansen: the Novel!
I don't know who all knows/likes Dear Evan Hansen so I'm just going to tag a bunch of you and hope I find at least a few!
I tag:
Winged Cynic | Kaya @ A Fictional Bookworm | Magic In The Everyday | Mary @ Sophril Reads | The Mystique Reader | Cindy @ readctbooks | Book Princess Reviews | Life of Chaz | Carolina @ fictionologyst | Jill's Book Blog | Jenaca @ jenacidebybibliophile | Mim Inkling | bookgraphy | Sophie @ Sophie's Corner | Sarah @ Written Word Worlds
I hope you have fun with it! And remember:
x Margaret