Time to get nostalgic!
When I was little, I read voraciously. I probably read more than I do now, but – because I was limited by what I already had on my bookshelves and what the library had available – I tended to read the same books over and over again. Looking back, there are certain books that I remember which became beloved to me during my early years, and today I want to talk about some of them!
For most of these, it's been years since I picked them up, so I have no idea what I would think of them if I read them today. Others, though, are still favorites that I return to from time to time. Either way, all of these books helped shape who I am today and the kinds of books I enjoy reading now, so they'll always hold a special place in my heart.
Redwall series by Brian Jacques
I still own all twenty-something of these books, since it was the first book series I ever collected (go big or go home, right?). And even though it's been ages since I picked any of them up, I still remember the stories and characters of many of them so clearly. These books, about talking animals living in an abbey called Redwall, are so formulative and essential to my childhood – I can't even imagine who I would be without them.
Misty of Chincoteague & Mustang, Wild Spirit of the West by Marguerite Henry (and everything else she wrote)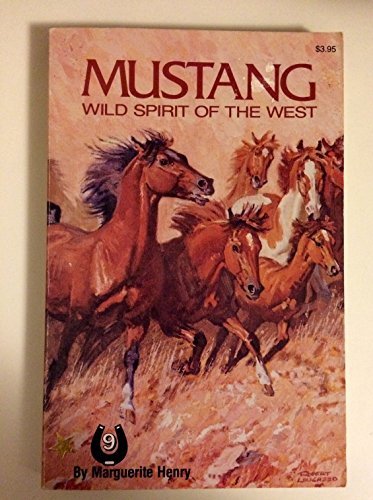 Being That Horse Girl™ as a child, I read most of Marguerite Henry's books, though these two stand out most to me. Both follow true stories (as, I believe, many of her books do): Misty was about a wild horse and the family that tamed her, and Mustang was about the woman who pushed for legislation protecting wild mustangs. Even though much about these stories is hazy now, I have random vivid memories of certain parts of them.
The Black Stallion by Walter Farley
Once again, as the Horse Girl™, I was contractually obliged to read this book. I definitely read most of the series, but this first one is what I remember the most. It follows a boy who is stranded on an island with a wild horse. There was a movie adaptation as well, but the book was the one that I loved most.
The Chronicles of Narnia by C.S. Lewis
This entire series was so beloved to me when I was little. It was one of the first series I ever read, and it truly captured my imagination. (And tbh, I'm still a little disappointed that I haven't managed to step into a magical world with talking animals after all this time.) It's been years since I read any of these, but they're definitely still favorites.
Anne of Green Gables by L.M. Montgomery 
Imaginative, optimistic Anne Shirley was extremely relatable to me when I was little, so of course I adored this book! All of Anne's lines made me laugh so much – I remember quoting them in day-to-day life and thinking I was hilarious. I don't actually remember whether or not I finished the series, so I guess I'll have to return to them someday.
American Girl books
Yes, I was definitely one of those girls that obsessed over American Girl and read all the stories! Even though I don't actually remember much about them anymore, and the whole brand has changed so much since my younger days, I still remember them with fondness. Kaya, Felicity, Josephina, Kirsten, Addy, Samantha, Kit, and Molly kindled my love for history and stories about amazing girls.
Ella Enchanted by Gail Carson Levine
This is one that I still absolutely adore and read from time to time! It actually took me an embarrassingly long time to realize that it was a Cinderella retelling (I don't even know), but I still think it's one of the cleverest and most beautiful fairy tale retellings I've ever read. Ella is such an iconic character and I love her.
Listening for Lions by Gloria Whelan
I don't know of many other people who have read this book, but I read it over and over again as a kid, and still remember it pretty vividly. It follows a young girl named Rachel growing up in Kenya (I think?) whose parents die of influenza. Her neighbors, whose daughter also dies, send Rachel in their daughter's place to try to get money out of the grandfather. It's a beautiful story that I definitely want to revisit someday!
Harry Potter by J.K. Rowling
Ending on the most obvious of them all! I almost didn't include this on my list, since most people of my generation loved these books as kids, but it felt wrong to not include it. Obviously, Harry Potter has been hugely influential, not just for the culture, but for me personally. It's one of my favorite stories of all time and I will never stop loving it!
What books did you love as a kid? Did you read any of the same ones as me?