What If It's Us
by Becky Albertalli and Adam Silvera
"I believe in love at first sight. Fate, the universe, all of it. But not how you're thinking. I don't mean it in the our souls were split and you're my other half forever and ever sort of way. I just think you're meant to meet some people. I think the universe nudges them into your path."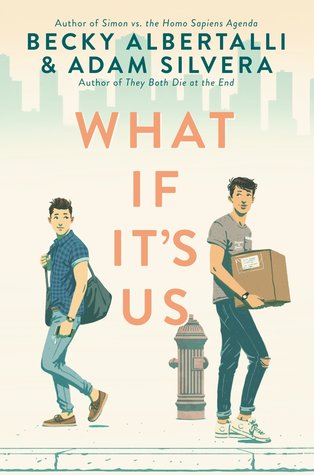 Published Oct. 9 by HarperTeen
448 pages
Genre: YA contemporary
Date finished: Oct. 5, 2018
Summary:
Arthur is only in New York for the summer, but if Broadway has taught him anything, it's that the universe can deliver a showstopping romance when you least expect it.
Ben thinks the universe needs to mind its business. If the universe had his back, he wouldn't be on his way to the post office carrying a box of his ex-boyfriend's things.
But when Arthur and Ben meet-cute at the post office, what exactly does the universe have in store for them?
Maybe nothing. After all, they get separated.
Maybe everything. After all, they get reunited.
But what if they can't quite nail a first date . . . or a second first date . . . or a third?
What if Arthur tries too hard to make it work . . . and Ben doesn't try hard enough?
What if life really isn't like a Broadway play?
But what if it is?
My thoughts (spoiler free)
I'd like to know how exactly Becky Albertalli and Adam Silvera looked into my head and wrote a book specifically tailored to my interests??
Story time: this past summer (the very summer, in fact, that this book takes place) I was living in New York City. Like Arthur, I was very much not a New Yorker, not really sure how to act, and sure I stood out as a tourist every time I stopped to take pictures of the buildings around me, even though technically I lived there. Like Arthur, I was that musical nerd walking down the streets of New York singing Dear Evan Hansen to myself and daydreaming about winning the Hamilton lottery. In fact, the day before this book begins is the day that I saw Dear Evan Hansen on Broadway. So you could say that this book was a little relatable to me.
(Also, it was wild keeping track of the dates when events in this book take place and remembering where I was in New York City on those days. There was a time that I was in Washington Square Park on the same day as the characters!)
Personal story aside, I truly loved every moment of this book. Both Becky and Adam are such strong writers who have created some of my favorite YA contemporaries, and putting them together is a recipe for perfect success. I flew through this – when I first picked it up, I don't think I moved for three hours. I was sucked into the story and couldn't bear to pull myself away.
The two main characters, Ben and Arthur, are absolutely precious. I definitely related most to Arthur, for the aforementioned reasons. He's nerdy and optimistic and excited about everything and has zero chill whatsoever, which I found endearing. I appreciated that his character arc wasn't about other people telling him to tone it down, since it's okay to be excited about things! And Ben was also such a strong character – protective and thoughtful and slightly more insecure and pessimistic, but every bit as sweet and nerdy. He and Arthur fit so well together! Of course, they still had to work for their relationship, which was another aspect of this book that I appreciated. They didn't always get things exactly right, but even when they weren't perfect, they were willing to make the effort to keep trying.
This book was very much focused on the relationship between these two, but it didn't ignore the other people in the characters' lives. The relationship between Ben and his best friend Dylan (and later Dylan's girlfriend) was one of my favorite parts, since it was so clear how much they care about each other despite their constant teasing. We also get a lot of both main boys' relationships with their parents, which were complex and hard and heartwarming in different ways. Plus, Arthur's two best friends from Georgia are a major part of his life and his character arc. So in addition to the beautiful love story, we get plenty about the worlds both of the characters inhabit!
Going into this, I wondered whether we'd get a Becky ending or an Adam ending. Anyone who has read books by either of these authors knows that Becky's usually leave you full of heart fluff and happiness, while Adams rip your heart out. I wasn't sure how they would write an ending that fit both of them but didn't feel wishy-washy and caught in the middle. Happily, I'd say they succeeded. I'll let you discover for yourself, but I thought it was the perfect way to end this book.
If you're looking for a feel-good contemporary to make you believe in love again, look no further than What If It's Us. Combining the heat and bustle of summer in New York City with the heart flutters of falling in love, this book reminded me of everything that I wish for in romance stories. It was chock full of nerdy references (yes, there was an entire scene in which Ben and Arthur listened to Hamilton together), laugh-out-loud moments, and some truly touching and emotional scenes. Not only was it somehow perfectly tailored to everything that I love, but I feel like this is a book that so many readers will find joy in.
*listens to Only Us on repeat while crying about Arthur and Ben*
"There's no plan and no fate. It's only us."
Similar books:
x Margaret