Girls of Paper and Fire
by Natasha Ngan
"When the world denies you choices, you make your own."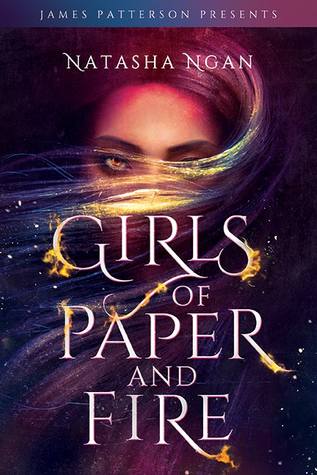 Published Nov. 6, 2018 by Jimmy Patterson Books
336 pages
Genre: YA fantasy
Date finished: Oct. 12, 2018
Summary:
In this lush fantasy, Lei is a member of the Paper caste, the lowest and most oppressed class in Ikhara. She lives in a remote village with her father, where the decade-old trauma of watching her mother snatched by royal guards still haunts her. Now, the guards are back, and this time it's Lei they're after–the girl whose golden eyes have piqued the king's interest.
Over weeks of training in the opulent but stifling palace, Lei and eight other girls learn the skills and charm that befit being a king's consort. But Lei isn't content to watch her fate consume her. Instead, she does the unthinkable–she falls in love. Her forbidden romance becomes enmeshed with an explosive plot that threatens the very foundation of Ikhara, and Lei, still the wide-eyed country girl at heart, must decide just how far she's willing to go for justice and revenge.
My thoughts (spoiler free)
What do you get when you cross Asian mythology, demons, class struggles, forbidden romance, and feminism? This amazing book, of course!
Girls of Paper and Fire takes place in a beautifully well-developed fantasy world inspired by Asian cultures and mythology. The demonic Moon caste, marked by their animal features, is the highest, followed by the part-demon Steel cast, and finally the fully human Paper caste. The main character, Lei, is Paper caste and has spent her life in a remote village, though she is dragged into the heart of the kingdom when she is chosen against her will to be one of the king's consorts. Yikes. It's a pretty sucky situation overall.
The plot is a bit slow to start off and it took a while for things to start moving. Once it built up, though, it really got going. The tension and beautiful writing that I loved in this book were there the whole time, so there were never any points in which I wasn't interested. As the story progressed, the stakes constantly heightened, making the situation more difficult and complicated for the characters and keeping me on the edge of my seat.
Some parts, however, were extremely difficult to read, given the subject of the book. Content warnings for sexual abuse, violence, and rape.
Lei, the narrator, was such a strong character. Despite the hopeless situation she finds herself in, she shows resilience and courage and determination. She is allowed to be angry and afraid and ruthless, while also being capable of forgiveness and love. The relationships she forms with some of the other Paper Girls were some of my favorite aspects of the novel, as they showed Lei's ability to persevere in the face of despair.
Speaking of relationships, Wren is another important character who is worth mentioning. I loved the relationship that forms between Lei and Wren, watching it develop from nothing as both of them struggle with their own conflicts. I wish Wren had been fleshed out a little more on her own, apart from Lei, though I understand that it's hard to do since the book is from Lei's perspective.
For the most part, the writing was absolutely beautiful, lush, and descriptive, transporting me into that world. I especially enjoyed all the descriptions of food – they made me hungry! The palace is described in beautiful language, which is juxtaposed against the horrible things happening within its walls.
At times, however, I felt that things were spelled out a little too clearly, leaving little room for interpretation or subtlety. This extends to characters as well; a few characters (particularly some of the other Paper Girls) felt a little simplistic. I kept expecting more, to be surprised by them in some way, but that just didn't happen.
In the end, though, I was fully invested in the story. I had no idea starting out that this was going to be a series, but WOW it had better be because I definitely need more after that ending!
Overall, this a beautiful yet intense book that deals with consent, the ownership of women's bodies, power, and oppression at a time when all of these are salient issues in cultural conversations. Despite it being difficult to read at times, I came away from it feeling empowered by its message that no one own's a woman's body but herself.
This book releases on November 6, so make sure to go pick it up then!
"We might be Paper Girls, easily torn and written upon. The very title we're given suggests that we are blank, waiting to be filled. But what the Demon King and his court do not understand is that paper is flammable. And there is a fire catching among us."
Similar books:
x Margaret