I wasn't planning on doing a post today, since my October wrap-up is coming tomorrow, but hey it's Halloween! Gotta get in the spirit!
In honor of this Very Important Holiday, I'll be giving a book recommendation for all those spooky, scary Halloween monsters out there.
Witches
Toil & Trouble: 15 Tales of Witchcraft and Women edited by Jessica Spotswood and Tess Sharpe
This book has not one but fifteen stories of witches! Old witches, new witches, borrowed witches, blue (er, green?) witches, this anthology has them all. From a wide and diverse array of authors, these stories follow witches and women of all sorts whose magic gives them power in a world that wants to take it away.
Ghosts
City of Ghosts by Victoria Schwab
This lovely middle grade book is chock-full of ghosts and spooky things, taking place in one of the most haunted cities in the world, Edinburgh. The main character, Cass, is one of the few living people who can see ghosts – in fact, her best friend is a ghost – and her parents are paranormal investigators.
Vampires
City of Bones by Cassandra Clare
I realized that I've mostly steered clear of vampire books since they were a huge thing with Twilight, but this book/series has some of 'em. Even though it's been years since I've read a Cassandra Clare book (and honestly I don't remember much about them), I remember the vampire scene of this book pretty vividly.
Werewolves
Harry Potter and the Prisoner of Azkaban by J.K. Rowling
Again, uh, I haven't really read many werewolf books? So I'll settle with recommending a classic: the Harry Potter book with my favorite werewolf out there, Remus Lupin. You really can't go wrong with this book.
Zombies
Dread Nation by Justina Ireland
Called "shamblers" in this story, the zombies of Dread Nation have risen in the wake of the Civil War, creating a national crisis. The main character, Jane, is one of the many young black women trained to be "attendants" and fight off shamblers for their employers, but Jane has bigger plans than that.
Demons
Girls of Paper and Fire by Natasha Ngan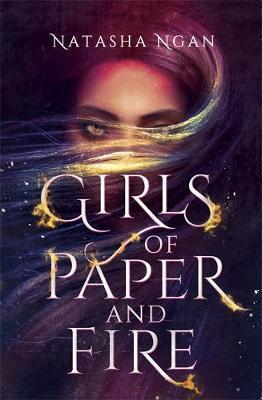 The demons in this story are the highest caste of beings in this fantasy world, with animal features that mark them as superior. Lei is a human Paper Girl chosen to be a consort to the Demon King, but that doesn't mean she's not going to put up a fight.
Happy Halloween, eat lots of candy, and stay safe!
What's your favorite book with a Halloween creature? Do you know of any good vampire or werewolf books?
x Margaret