The Seven Husbands of Evelyn Hugo
by Taylor Jenkins Reid
"When you're given an opportunity to change your life, be ready to do whatever it takes to make it happen. The world doesn't give things, you take things."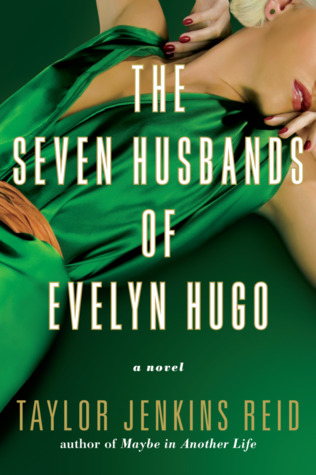 Published June 2017 by Atria Books
388 pages
Genre: historical fiction
Date finished: Nov. 10, 2018
Content warnings: physical abuse, homophobia
Summary:
Aging and reclusive Hollywood movie icon Evelyn Hugo is finally ready to tell the truth about her glamorous and scandalous life. But when she chooses unknown magazine reporter Monique Grant for the job, no one is more astounded than Monique herself. Why her? Why now?
Monique is not exactly on top of the world. Her husband has left her, and her professional life is going nowhere. Regardless of why Evelyn has selected her to write her biography, Monique is determined to use this opportunity to jumpstart her career.
Summoned to Evelyn's luxurious apartment, Monique listens in fascination as the actress tells her story. From making her way to Los Angeles in the 1950s to her decision to leave show business in the '80s, and, of course, the seven husbands along the way, Evelyn unspools a tale of ruthless ambition, unexpected friendship, and a great forbidden love. Monique begins to feel a very real connection to the legendary star, but as Evelyn's story near its conclusion, it becomes clear that her life intersects with Monique's own in tragic and irreversible ways.
My thoughts (spoiler free)
Starting off, I expected to get a story about a strong and powerful woman in Hollywood's golden age who did whatever it took to make her name in the world. And that's exactly what I got. What I didn't expect was to also get one of the most beautiful and heartbreaking love stories I've ever read.
I read most of this book in a single day – during which I had to physically separate myself from the book for a while to actually get homework/writing done – and that night I spent about two hours laying in bed as I read the last hundred pages or so. I then proceeded to cry some more in the shower, lie awake unable to sleep, and the next day waste a few hours making a Spotify playlist for the book so I could more effectively continue to lie in bed and cry. So, uh, yeah, the Spotify playlist is here if you want it.
The Seven Husbands of Evelyn Hugo follows a journalist named Monique Grant who, for reasons that she doesn't understand, is chosen by former Hollywood star Evelyn Hugo to write her biography. Most of the book is comprised of Evelyn telling her life story, with occasional intervals following Monique's experience.
So in essence, this book is the story of a life. An inspiring, heartbreaking, frustrating, complicated life and all the many hardships and joys that come along with it. It was about fame and living in the spotlight and doing whatever it takes to get to the top, but it was also about the relationships between people through time and the ways that they change and grow and fit around each other.
Let's start off talking about our titular character. Evelyn Hugo… How do I even begin to explain Evelyn Hugo? *insert Mean Girls style explanation montage here*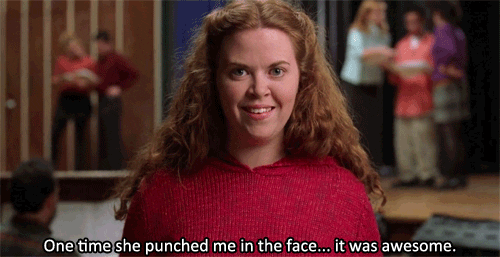 (me @ Taylor Jenkins Reid after reading this book.)
Evelyn Hugo is easily one of the most complex and interesting characters I've ever read. She is 100% Slytherin, as she will gladly manipulate people to get what she wants, but she has so much depth to her character. A Cuban woman who dyed her hair blonde and changed her name when she moved to Hollywood, she erases her race in order to rise. A bisexual woman in the mid-twentieth century, she hides her love for another woman. Her audiences and many of the people around her see her stunning beauty, which she learns to value before she appreciates other aspects of herself. She is infamous for her seven marriages, yet none of those men were the love of her life. At 79, she knows that she has made many mistakes and hurt many people in her life, yet she has no regrets.
With such a dynamic character as Evelyn Hugo at the center of this novel, Monique tends to get overshadowed a little. All of the reviews I read of this book said something like "oh yeah, Monique is a great character too!" Even though she isn't the focus, Monique is a really lovely character as well, who grows so much in the course of this novel. In any other book, I would be perfectly happy with her as the main narrator. The sections that focus on her never felt like they took away from the main story about Evelyn; in fact, I think they helped frame it and put it into context. So shout out to Monique for being a great character.
There are several other characters that are important to mention, including, of course, Evelyn's seven husbands. Some are more central than others, but the most important one is her sixth (? I think) husband, Harry, who was easily one of my favorite characters. And of course, there's Evelyn's real love interest, a fellow actress. The relationship between the two was never simple or easy or straightforward (or straight anything lol), and it was by far one of the best aspects of the novel.
I want to be able to express how deeply moving and affecting Evelyn's story was, but I don't know that I can do it justice. Not only did the writing feel alive with Evelyn's voice, each word chosen so deliberately, but the story itself was breathtakingly beautiful and heartbreaking in equal measure. It shows all the highs and lows of her life, the triumphs and failures, the unfairness when all I wanted was happiness for these characters. But most of all, it felt so real – even when you find happiness with a person that you think will last forever, that's not the end of the story, and this book showed the story in its entirety.
This is not a book that I will be forgetting anytime soon. It's certainly not the type of book I would normally pick up, but with all the hype surrounding it and recommendations from several trusted sources, I couldn't say no. And I'm so, so happy I picked it up. This book shook me up. It reached into something deep inside me and latched on and refused to let go. It made me feel grateful that I was born into this particular moment in history specifically so I could read this book. It fully deserves all the praise it has received and more.
"It's always been fascinating to me how things can be simultaneously true and false, how people can be good and bad all in one, how someone can love you in a way that is beautifully selfless while serving themselves ruthlessly."
Similar books:
x Margaret
Pin this!