Happy Valentine's Day! Let's talk about my disappointment with romance in YA books lately.
Last year for V Day, I made a post about my favorite book couples (it was like the third post I made on this blog so maybe don't read it), and I was planning on doing an updated version with my favorite couples from books I've read in the past year. Only to look back and realize that…huh, I don't really have many to add. In the 100+ books I've read in the past year, many of which featured romantic subplots, there are only a few that I felt truly invested in.
Having a romance that I'm invested in is certainly not a requirement for YA. But if most of the books I've read have an element of romance, I shouldn't be looking back on most of them a few months later and going "meh" or "oh yeah I completely forgot about that."
So what's gone wrong with romance in YA?
The first problem that I see is that romance is considered a requirement in YA novels. Think back to the last ten YA novels you read. Maybe the last twenty. When was the last time you read a YA where the main character doesn't end up in a relationship or at least is heading in that direction with another character?
Now I'm not here to say that YA shouldn't feature romance. On the contrary! But the problem comes when romance is expected in YA, so it's shoehorned in as an afterthought, without proper development.
In some stories, especially in plot-focused genre novels like sci-fi/fantasy, a romantic sideplot just doesn't make sense. If you're trying to save the world from invading aliens, isn't that a little more pressing that figuring out who your boyfriend is? Romantic sideplot can certainly exist in these types of stories, but they shouldn't distract from the main plot; they should enhance it, show the main character(s)' development and growth, and actually tie into the story.
A major sign of a shoehorned love story is underdeveloped characters. If the love interests exists only to be a love interest…well, that's a clear sign that the romantic subplot shouldn't be there at all. When this happens, the love story feels dull and leaves me rolling my eyes and skimming the pages to get to the better parts.
Also, it gets a little tiring and predictable when the main POV male character and the main POV female character have to get together. Let's switch it up sometimes!
I've talked before about my intense dislike of insta-love in YA, and I think that's another symptom of the problem here. Insta-love is what happens when two characters meet and inexplicably fall for each other in 0.2 seconds flat, leaving me going what just happened? Within a few pages, they're willing to risk their lives for each other, even though they don't even know each other.
Maybe these characters are plenty fleshed out and developed individually, but when I'm not given a reason to root for them to be together, I'm not going to. Relationships need to develop; they don't just spark to life through an intense moment of eye contact or one of the characters saving the other's life. In order to convince me that these characters love each other, I should at least feel like they like each other.
Okay, I'm going to step back and give YA the benefit of the doubt for a moment. Maybe the problem isn't these books. Maybe it's me.
I'm 21 years old, which means I'm no longer the target audience for YA. And it's true that I'm a lot more critical of book relationships than I was when I was under 18. So maybe I'm just getting old and curmudgeonly and I shouldn't complain about books that are aimed for people younger than me.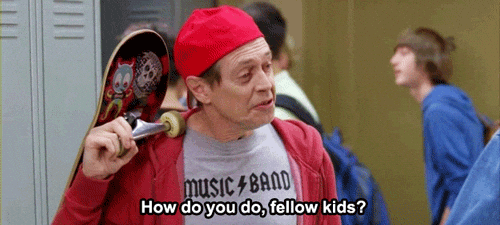 But isn't it also important for me, as a semi-adult, to be critical of the stories aimed at younger audiences? I may not have much (read: any) experience in the romance department, but even I know that a lot of the romance featured in YA novels just isn't realistic. Kids learn a lot through the media they consume, and if we tell them that The One™ is the person they fall in love with at age 17 by locking eyes across a crowded room and just knowing, isn't that a little, uh, harmful?
(And yes, I know that a lot of kids are smarter than that, and plenty of people don't read fiction for realistic relationships, but let's not pretend that lots of young girls didn't grow up reading Twilight and thinking that Edward's possessiveness of Bella was romantic. Young people learn about the world through the fiction they consume.)
Also, the fact that romance is featured in most YA basically sends the message that all teenagers do and should end up in relationships. I can't think of any books where that's explicitly stated, but when stories end with every character paired off, it's kind of implied. I'll be real with y'all: I'm 21 and have never been in a relationship. If I were only going by what I see in media, I would probably think there is something fundamentally flawed about me. Luckily, I know that I'm a whole person in or out of a relationship, but not everybody knows that. I realize that this is just a problem across basically all media, not just YA novels, but YA has always been a place to push for change in the stories we want to see. Why can't it also push to change attitudes toward romance?
I don't want you to get the wrong idea: I'm not saying that YA can't have romance. I just want that romance to be well-developed, interesting, and actually add to the story rather than detract from it. When I read a book with a couple that I absolutely love, it kind of feels like falling in love myself, only with a fictional relationship rather than a real person. I love that feeling, and I want more of it.
(Look at me, managing to fit two B99 gifs into a discussion.)
On that note, here are a few of the fictional relationships that I did like in the past year:
Evelyn and Celia from The Seven Husbands of Evelyn Hugo by Taylor Jenkins Reid (not YA but still)
Lara Jean and Peter Kavinsky from To All the Boys I've Loved Before by Jenny Han
Ben and Arthur from What If It's Us by Becky Albertalli and Adam Silvera
Leah and Abby from Leah on the Offbeat by Becky Albertalli
And here are some relationships that I either aggressively didn't care about or actively disliked:
Alina and anyone from the Grisha Trilogy by Leigh Bardugo
tbh all of the relationships in Three Dark Crowns by Kendare Blake
Lazlo and Sarai from Strange the Dreamer/Muse of Nightmares by Laini Taylor I'm soRRY
Laia and Elias from An Ember in the Ashes by Sabaa Tahir please don't kill me
Evie and that dude whose name I can't even remember from The Diviners by Libba Bray
Zélie and Inan from Children of Blood and Bone by Tomi Adeyemi
The rest kinda just fall into a "sure, I'm fine with it" or "I've already forgotten about it" category.
And finally, I'll leave you with a few recommendations of YA novels where the main character doesn't end up in a relationship by the end:
Radio Silence by Alice Oseman
I Was Born For This by Alice Oseman (seriously, people, just do what Alice Oseman does)
Dread Nation by Justina Ireland
Sadie by Courtney Summers
The Miseducation of Cameron Post by Emily M. Danforth
Skyward by Brandon Sanderson
The Lady's Guide to Petticoats and Piracy by Mackenzi Lee
What are your thoughts on romance in YA? What book couples have made your heart swoon lately? Any recommendations for YA books without romance?
x Margaret 
goodreads | twitter | pinterest
Pin this!