Welcome to the end of another month!
As you probably know if you looked at anything on my blog in the past month, March was the Women's History Month Reading Challenge. This means I only read books written by women for the entire month! (Which wasn't much of a stray from my normal reading, tbh.)
I managed to read twelve books in the month of March, nine of which fulfilled challenges for the reading section. The original bingo board looked like this:
…and with all of my reads filled in, it now looks like this:
There were only three challenges that I didn't complete! But that's okay with me, since I managed to get several bingos, and I discovered some great books along the way.
Among the twelve books that I read, my average rating for the month was 3.9 stars, a step up from the last two months. Let's talk about the books I read in March!
Books I Read
The Boneless Mercies by April Genevieve Tucholke ★★★/5
Challenges: sci-fi or fantasy by/about a woman
This all-female retelling of Beowulf follows a group called the Boneless Mercies, who travel from town to town performing mercy killings. When they hear of a beast terrorizing a distant valley, they travel there to defeat the monster and gain glory for themselves.
While this book was atmospheric and beautifully written, I felt a sense of detachment from it for the entire time. The characters had the potential to be very interesting – and at times they were – but I never felt like I knew them or cared as much as I should. I didn't mind much that this was a slow-moving story, and I love that it reimagines Beowulf with women instead, but there for me, there was potential here that wasn't realized.
Ten Women by Marcela Serrano, translated by Beth Fowler ★★★/5
Challenges: translated book
This was my translated book for the month, originally written in Spanish by a Chilean author. It's about nine women who all have the same therapist, and she gathers them all together so they can tell their stories. Basically, it has the feel of a book of ten short stories.
While I thought the writing was beautiful and managed to capture the lives of these ten women so thoughtfully, there wasn't much in the way of plot, so I didn't have anything keeping me going through the whole book. There wasn't an overarching mystery about what was tying them together; we know that from the start. It's simply the life stories of ten different women. And while I thought there was a lot of diversity in experience represented here, I wasn't kept engaged the whole time.
Dreadnought by April Daniels ★★★.5/5
Challenges: book with a trans spec MC, book with no romantic subplot
When the famous superhero Dreadnought dies in front of her and passes on his mantle, Danny finally gets the body she's always wanted. However, Danny suddenly has a lot of responsibility on her shoulders, in addition to dealing with other people's reactions to her transition.
This was just a lovely and heartwarming story, and Danny's character growth was so lovely to watch. I wanted to cheer for her by the end of the book! However, I wasn't super impressed by the writing, and a lot of the time the pacing just felt off. I still enjoyed this book, though, and I definitely recommend it!
The Sun Is Also A Star by Nicola Yoon ★★★.5/5
Natasha's family is about to be deported back to Jamaica, and Daniel is about to have a life-changing interview. When they meet on Natasha's last day in the US, there is just enough time for a whirlwind love story.
Since I'm not a fan of insta-love, I was a bit wary going into this, but I was pleasantly surprised by how much I liked the love story! This book is very character-focused, as it follows Natasha and Daniel over the course of one life-changing day. I was amazed by how well we got to know these characters and how they grew in such a short time. I didn't love how often it switched around with POVs, but I thought this was a really sweet story that pulled at my heart.
i love this part by Tillie Walden ★★★★/5
Challenges: graphic novel by/about a woman; book with a queer MC
This graphic novel is so short that I read it in less than a half an hour, then immediately went back and read it again. It's short and simple, with beautiful, full page illustrations in black, white, and purple, telling the story of a relationship through images and clips of dialogue. Whatever the visual version of a poem is, this is it. Tillie Walden has recently become one of my favorite graphic novelists (is that a term?) and this quick yet impactful little book  definitely reminds me of her skill.
Palace of Stone by Shannon Hale (Princess Academy #2) ★★★★/5
Challenges: middle grade book by/about a woman
The sequel to Princess Academy follows Miri and the other Mount Eskel girls when they go to the capital for a wedding. This was actually a reread for me, though I don't remember like anything from the first time I read it. A lot of the story focuses around politics and class inequality, which I thought was all super interesting! I loved being able to follow Miri and her character development as she learns more about herself and her place in the world.
(I do find it a little strange that this is marketed as middle grade, since one of the subplots is Miri wondering who she's going to marry. 🤔)
Spin the Dawn by Elizabeth Lim ★★★★/5
(release date: July 9)
Challenges: book with a woman of color MC
This fantasy about a girl disguising herself as a boy to compete to become the emperor's tailor was so much fun! Magic, romance, and amazing worldbuilding made this an exciting adventure that I can't wait for everyone else to read. My full review is here!
Undead Girl Gang by Lily Anderson ★★★★/5
Challenges: book with a girl squad; body positive book
Teenage witch Mila Flores has just lost her best friend, Riley. Everyone says it was suicide, but Mila thinks there was something more sinister going on. Determined to solve the mystery of Riley's death, she sets out to bring Riley back to life, but in the process also brings back two other classmates who supposedly committed suicide around the same time.
What a fun and witchy and spooky book! Even though some of the characters weren't super complex, they were still enjoyable to read about and made for an entertaining story. Mila herself was definitely the most interesting to me, as she navigates her identity as a fat Latina witch and the best friend of a dead girl. She's also super funny, which helps. There were times that the dialogue and events felt a little too storybook-ish, like they wouldn't have happened with real people, but other than that, this was a book that I really enjoyed!
Bygone Badass Broads: 52 Forgotten Women Who Changed the World by Mackenzi Lee ★★★★/5
Challenges: biography or memoir of a woman
This book tells the stories of 52 historical women who aren't usually celebrated, and I'd heard of almost none of them going in. It was, of course, written in Mackenzi Lee's hilarious style, and accompanied by beautiful illustrations. Reading this was fascinating! There were so many amazing stories that I couldn't believe aren't told everywhere. I want a full length novel about every one of these women!
Code Name Verity by Elizabeth Wein ★★★★.5/5
During World War II, a British spy is captured by Nazis. Forced into a confession, she weaves a story about her friendship with a pilot named Maddie and how she ended up in a Nazi prison.
This book snuck up on me! I started reading it years ago but put it down after 50 or so pages because it's a bit slow to start out (and I wasn't reading much at the time). Finally, I picked it up again this month and, after initially being unsure whether I'd like it, I fell absolutely in love.
With every puzzle piece that snapped in place, I gasped out loud. The characters came to life from the page and I haven't been able to stop thinking about them since. This book made me cry! I had no idea that I would love it so much and I'm mad at myself for waiting this long to read it!
The Gilded Wolves by Roshani Chokshi ★★★★.5/5
Challenges: book with multiple female POVs
Historical fantasy set in Gilded Age Paris following a group of diverse and interesting characters finding magical artifacts?? Yes please! I loved this book a lot. Go read my review here!
Red, White & Royal Blue by Casey McQuiston ★★★★★
(release date: May 14)
I won't say a lot about this book here, since I'll have a review coming within the next few weeks, but suffice it to say that this was definitely the best book I read this month and I can't wait for it to be released so everyone can read it!!!
March blog posts
I want to say a huge thank you, once again, to everyone who participated in the Women's History Month Reading Challenge! I'm going to do my best to link to everyone's posts, but forgive me if I've left yours off – and please let me know so I can fix it!
Week one: inspiring female characters
My post ⭐️ Jayati @ It's Just a Coffee Addicted Bibliophile ⭐️ Michaela @ Journey into Books ⭐️ Brittany @ Perfectly Tolerable ⭐️ Marie @ Sea of Pages ⭐️ Caro @ BookcheshireCat
Week two: books with women on the cover
My post ⭐️ Jayati @ It's Just a Coffee Addicted Bibliophile ⭐️ Michaela @ Journey into Books ⭐️ Brittany @ Perfectly Tolerable ⭐️ Marie @ Sea of Pages
Week three: female authors
My post ⭐️ Jayati @ It's Just a Coffee Addicted Bibliophile ⭐️ Michaela @ Journey into Books ⭐️ Brittany @ Perfectly Tolerable ⭐️ Marie @ Sea of Pages ⭐️ Xandra @ Starry Sky Books
Week four: #ownvoices books about diverse women
My post ⭐️ Jayati @ It's Just a Coffee Addicted Bibliophile ⭐️ Brittany @ Perfectly Tolerable ⭐️ Marie @ Sea of Pages
Other posts from this month
⭐️ Sha @ Book Princess Reviews read Tash Hearts Tolstoy at my suggestion and her review encapsulates everything I love about that book!
⭐️ Chaima @ runawaywithdreamthieves wrote a brilliant review of Red, White & Royal Blue, which I'm still struggling to express my love for
⭐️ Alina @ Fully Booked celebrated her birthday by listing 17 wishes about books & publishing, all of which I 100% agree with!

Other things
Captain Marvel
It's here at last and it was wonderful! I knew I had to see this movie from the second that I first heard about it, and it absolutely delivered. The action, the story, watching Brie Larson beating people up – all of it was fantastic. Nothing but respect for MY captain. And it actually made me want to watch Avengers Endgame just so I can see Carol Danvers again? Who'd have thunk.
Hozier
Hozier finally released his new album and I couldn't be happier! I think I listened to it at least ten times in a row the first weekend that it was out, and I still haven't stopped listening. I love it even more than his first album?? There isn't a single song that I don't like. My favorite songs from the album are currently "No Plan," "Be," and "Would That I," though this changes constantly. Thank you Mr. Hozier for my life.
Hadestown
I have a new musical obsession! I've been meaning to listen to Hadestown for a while and I finally got around to it this month…and I haven't been able to stop listening since! If you didn't know, Hadestown is a retelling of the legend of Orpheus and Eurydice from Greek Mythology, set in a Great Depression-era town. Sadly, the whole soundtrack isn't on Spotify, but I've been listening to what's there nonstop and basically memorized every song by now. The downside of loving musicals, of course, is that I probably won't be able to see it, which breaks my heart. It's a sad song, but we sing it anyway.
Starting a new job!
That's right, folks, I finally have a job! And not just any job – I'm working in a bookstore! It's only part time and I'm still learning how to do it properly, but I like it a lot. It feels like the perfect place for me to work!

April TBR
I have so many books to read in April AHHHHH. I'm participating in the O.W.L.s Magical Readathon (my TBR is posted here) and there are a few other books that I want to read as well. We'll see how I do!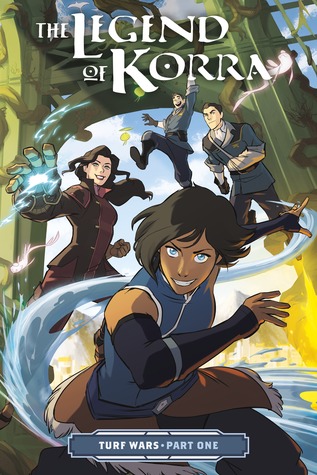 The Devouring Gray by Christine Lynn Herman (eARC)
Unmarriageable by Somah Kamal
The Legend of Korra: Turf Wars by Michael Dante DiMartino, illustrated by Irene Koh
Her Royal Highness by Rachel Hawkins (eARC)
Sabriel by Garth Nix
The Scorpio Races by Maggie Stiefvater
Circe by Madeline Miller
On the Come Up by Angie Thomas
Shadows of Self by Brandon Sanderson
Bloom by Kevin Panetta
You Asked for Perfect by Laura Silverman
What were your favorite books that you read in March? Did you join in with the Women's History Month Reading Challenge? What are you planning to read in April?
x Margaret 
goodreads | twitter | pinterest
Pin this!