So this is the start of something new!
No, I'm not talking to you, Troy.
Usually, I write a few reviews each month and then talk about the rest of the books I read in my monthly wrap-ups. However, since it's pretty normal for me to read 10+ books in a month, all of which I want to talk about extensively, my wrap-ups tend to get very long, and I still feel like I'm cutting myself off!
So instead, I'm going to be doing these "recently read books" posts. Every five books or so that I read (excluding books for which I write full reviews), I'll give these mini reviews – less in depth than a full review but more than I would include in a wrap-up. I'll still do wrap-ups at the end of the month, but they'll be a bit less wordy!
Now let's get into five of the books that I've read recently!
Shades of Milk and Honey by Mary Robinette Kowal
Set in the Regency Era, but with the addition of magic, this book follows two sisters, Jane and Melody, in their misadventures pursuing eligible bachelors.
I picked this up when my friend told me "please read this to help me understand why I hated it so much," which is always a fun way to go into a book. The concept sounded intriguing to me – Jane Austen with magic? – but unfortunately, the whole thing basically fell flat.
Ultimately, this book felt like it was drawing too much from various Jane Austen books without really understanding what made them interesting or adding anything new. There were the two sisters (like in Sense and Sensibility), but neither of them were interesting characters – and Melody was so annoying. There was the broody love interest (like in Pride and Prejudice), but he had absolutely no depth or anything that makes the reader love Mr. Darcy. The main character, Jane, spends most of the book complaining about how ugly and unloveable she is. None of the characters have a shred of common sense. And basically nothing happens for the entire book.
Also, I have literally no idea where that title came from.
On the Come Up by Angie Thomas
"All these folks I've never met became gods over my life. Now I gotta take the power back."
Content warnings: racism, police brutality, references to drug addiction, gun violence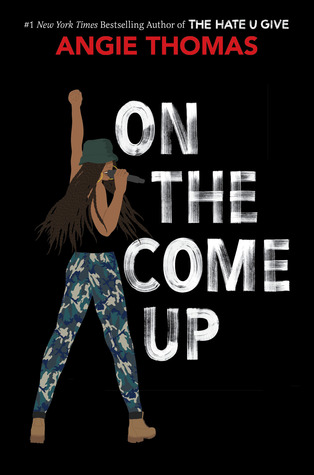 As the daughter of a rapper who died before his come up, sixteen-year-old Bri's dream is to become one of the greatest rappers of all time. Her family might be struggling financially, her neighborhood and school might be growing increasingly unsafe, but Bri is sure that her own come up will solve all of these problems. Everything changes, and not necessarily for the better, when one of her songs goes viral for all the wrong reasons.
Angie Thomas does it again! The Hate U Give was always going to be a tough act to follow, but this book does it brilliantly – and you can't spell brilliant without Bri. Bri shines as a character. One of my favorite things about this book is that she's allowed to be angry and make mistakes and basically be a teenage girl. Watching her growth through the course of this novel and seeing her find her voice – both literally and figuratively – was inspiring.
There's so much to praise about this book that I don't even know where to begin! It's an honest look at struggling black families and the systemic obstacles they have to overcome. It looks at stereotyping and gang violence and the prison system and police brutality, all handled expertly and sensitively. Plus, it's got some truly incredible raps that I desperately want to hear as real songs! And at the heart of it all is Bri and her family and the strong bonds that they have with each other. It warmed me to the depths of my heart!
Bloom by Kevin Panetta & illustrated by Savanna Ganucheau
Ari can't wait to move away to the city with his band, but for now he's stuck working in his family's bakery in their small seaside town. When he convinces his father to hire a replacement, he meets Hector, and the two strike up a friendship that could bloom into something more.
This was such a sweet story and a beautiful graphic novel! Overall, it's quite simple and straightforward, but nonetheless it's utterly heartwarming to see these two characters grow closer and gradually fall for each other. All of the side characters were really fun as well, not to mention very well developed in only a few short scenes! Plus, the art, which is all in shades of turquoise and black like on the cover, is so simple but pleasant to look at. This book also made me really want to learn how to bake sourdough!
Unmarriageable by Soniah Kamal
"We've been forced to seek ourselves in the literature of others for too long."
My second Austen-ish book of the month, and this one was more successful! This is a retelling of Pride and Prejudice set in early 2000s Pakistan, following Alys Binat, Valentine Darsee, and all the usual cast of characters.
I thought this story transferred so well into this setting! Not only did I learn a lot more about Pakistani culture, but it made me think about certain aspects of the original story in a new light, which is exactly what a retelling should do. Unmarriageable's Alys Binat made me appreciate anew how revolutionary and strong-willed the Elizabeth Bennet character is. Alys refuses to be the traditional Pakistani woman that everyone expects her to be – she cuts her hair short and doesn't wear makeup and says she'll never get married and goes on social justice rants. Seeing this character in a setting that's both familiar, as it's close to the present day, and unfamiliar, as she lives in a culture I don't know much about, reminds me of how much I love her.
The weirdest thing about this book, however, was the fact that Austen and her books exist in this world, and Alys is an English teacher who teaches Pride and Prejudice to her class. Knowing that Alys is familiar with the P&P story makes it feel odd that she doesn't draw the parallels to everything that's happening in her own life. She even has conversations comparing certain characters and events in her life to things in Austen novels (there's even a part where someone says that she's just like Elizabeth Bennet). I couldn't get over how weird that was. Plus, the writing style wasn't my favorite, jumping from character to character in a single scene.
Other than that, though, this was a really well-done and fascinating Pride and Prejudice retelling!
Sabriel by Garth Nix
"Does the walker choose the path, or the path the walker?"

Sabriel is the daughter of the Abhorsen, who can send the dead between the worlds of Life and Death. When her father goes missing, she travels into the Old Kingdom to save him.
I feel like I don't have that much to say about this book, because in the end I think it just wasn't for me. I don't think I had a problem with any parts of it in particular, but I never found myself clicking with the characters or finding my way into the flow of the writing style. Even though there was plenty going on, it always felt slow to me. This probably comes down to personal preference, since I know this book is well loved by a lot of people.
That said, I did really enjoy Sabriel as a character, with her arrogance and stubbornness giving way to curiosity and determination as she learns that she has so much more to discover about the world. And I could tell that this world was fully built and fleshed out, even though the lack of explanation never let me feel like I fully understood it. Oh well – I don't think I'll be continuing with this series.

What books have you read recently? Have you read any of these books?
x Margaret