Let's talk about five of the books I've read recently!
My first recently read books post is here.
The Scorpio Races by Maggie Stiefvater
"It is the first day of November and so, today, someone will die."
Content warnings: animal death
Each November, carnivorous water horses called capaill uisce rise from the sea on the island of Thisby. The islanders are used to this; they catch the horses and ride them in deadly races along the beach. This year is different though, because this year, Puck Connelly, the first girl in the Scorpio Races, is riding against Sean Kendrick, the four-time champion.
This book somehow made me feel nostalgic for a place I've never been. I should not be at all surprised at how perfectly Maggie is able to evoke this magical island and make me feel like I've walked along its cliffs and beaches even though it doesn't even exist. I honestly felt like I was saying goodbye to a real place when I finished this book.
Even though this book is fairly slow paced and more focused on the characters than the races themselves, I found myself clinging to every word. Each sentence felt like an individual work of art. Not to mention the characters, who are beautifully crafted and complex! Maybe it's my horse girl days returning to me, but I really want to ride a capaill uisce (even though I'd probably die). I can't speak enough praise about this book! I just wanted to drown in it!
(I was so obsessed with this book that I made November cakes to commemorate it.)
Circe by Madeline Miller
"I thought once that gods are the opposite of death, but I see now they are more dead than anything, for they are unchanging, and can hold nothing in their hands."
Content warnings: rape, torture, gore
The witch from The Odyssey tells her own story in this book, following her from birth through hundreds of years of her life. Banned to a remote island for practicing forbidden witchcraft, Circe makes a life for herself and encounters quite a few figures from familiar Greek mythology.
I can definitely see why this book has been getting so much praise since its release! Circe's story turns around male-centric history and looks at her place in mythology as a woman – and a powerful woman, at that. Plenty of people (men) underestimate her or try to take away her power, but Circe is not one to be messed with.
I loved Circe's growth as a character in this book. Even though the story spans centuries and follows an immortal being, Circe is never a static character; she's always learning and growing and rethinking her perception of herself and the world.
My main complaint is that this book is quite slow. It's supposed to be, but sometimes I felt that slowness so much. And while Madeline Miller's lush, descriptive writing is beautiful most of the time, there were moments when it felt like too much. But otherwise, I highly recommend this book!
The Legend of Korra: Turf Wars, Parts 1-3 by Michael Dante DiMartino & illustrated by Irene Koh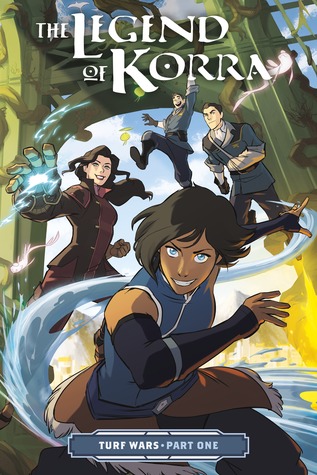 Picking directly after the finale of The Legend of Korra TV show, this comic series follows Korra and Asami dealing with the big changes in Republic City and the changes in their relationship. With competing factions fighting over spirit land, they find themselves facing plenty of new dangers.
Yes, I'm reviewing these three as one book, since they are all one overarching story. I had a lot of fun with these! They were quick to read and answered some questions that were left hanging at the end of the show. I really enjoyed everything having to do with Korra and Asami. Plus, the art style was fun and vibrant and fit the tone. I really don't have much else to say about these, but if you're a fan of The Legend of Korra you should go read these!
Shadows of Self by Brandon Sanderson (Mistborn Alloy Era #2)
"Freedom was not lack of responsibilities—it was being able to do what was right, without having to worry if it was also wrong."
Content warnings: gore, violence
(Yes, I'm using the British cover because I can't stand to look at the hideous American cover any more.)
This sequel to The Alloy of Law, set one year after that book, follows lawmen Wax and Wayne and their friend Marasi as instability caused by religious rifts and labor strikes threatens their city. They also deal with some stuff from the first book that I can't talk about because spoilers!
I do think that Brandon Sanderson is an incredible storyteller, and each book of his that I read proves that to me again. This book mostly takes place over the course of one night, and the amount of action and mystery and intrigue that's packed into that space of time is stunning. Plus, that ending! Ugh!
However, I've never been the biggest fan of his writing style, and in this book that comes across more clearly than ever. Also, I felt that it leaned too much on philosophical and ideological themes and not quite enough on the characters. I didn't enjoy it as much as I liked the first book in this series, but I still plan to continue on!
You Asked For Perfect by Laura Silverman
"If I don't have perfect grades, then who am I?"
Content warnings: anxiety 
Ariel has always been the perfect student with perfect grades, on track to be valedictorian and get into Harvard. Now, starting his senior year, all of the work is piling up. When he fails a math quiz that threatens to ruin his GPA, he takes on a math tutor, Amir, hoping to get back on track.
This book…oof. This was a stressful read, and I'm not even in school anymore. It definitely brought flashbacks of my own high school days of thinking I had to do everything perfectly or else what was the point. Ariel's attitude that all of his stress and hard work will pay off when he graduates high school is painfully relatable. I was never as intense about school as Ariel, but I still felt this hard. I also appreciated how it showed that everyone had bought into this mindset, from the teachers who pushed their students to the breaking point to Ariel's own little sister, who wants to be perfect even though she's in fifth grade. It shows so clearly how broken this whole system is.
The message of this book is spot-on and so important, but some of the other details didn't draw me in as much. I thought the writing was fine, with a little more telling than showing than I'd prefer. And the romantic subplot wasn't as fleshed out as I'd hoped. But I'm still so glad that this book is out there to show high schoolers that grades aren't everything! However, I'd recommend steering clear of this for now if you're in the process of applying to colleges or in a particularly stressful time at school.
Have you read any of these books? If so, what did you think of them? What books have you read recently?
x Margaret