The Priory of the Orange Tree
by Samantha Shannon
"We may be small, and we may be young, but we will shake the world for our beliefs."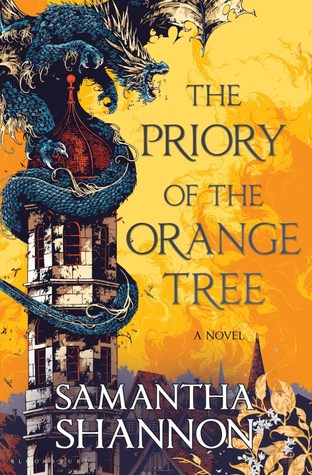 Published Feb. 6, 2019 by Bloomsbury
848 pages
Genre: high fantasy
Date finished: May 10, 2019
Content warnings: miscarriage, violence
Summary:
The House of Berethnet has ruled Inys for a thousand years. Still unwed, Queen Sabran the Ninth must conceive a daughter to protect her realm from destruction—but assassins are getting closer to her door.
Ead Duryan is an outsider at court. Though she has risen to the position of lady-in-waiting, she is loyal to a hidden society of mages. Ead keeps a watchful eye on Sabran, secretly protecting her with forbidden magic.
Across the dark sea, Tané has trained all her life to be a dragonrider, but is forced to make a choice that could see her life unravel.
Meanwhile, the divided East and West refuse to parley, and forces of chaos are rising from their sleep.
My thoughts (spoiler free)
This book is such a journey, with so many things happening in the course of its 800+ pages, that I hardly know where to begin for this review.
I guess I'll start by saying that this book blew me away. I didn't know what to expect going in, since the synopsis is pretty vague and I'd pretty much only heard what other people had said about it. What I got was an epic fantasy unlike anything I've ever read before, with mind-blowing worldbuilding, an intricate story, and characters that I came to love.
I've been having trouble with high fantasy lately but this book reminded me of everything I love about that genre. Yes, it was difficult to get into at first. I spent the first hundred pages or so unsure whether I would like this book, since I had to read extremely slowly to get myself situated in this world. This might be a turn-off for some readers, but if you give it a little time to get used to everything, you won't be disappointed.
This world is divided into four main regions: the East, West, North, and South. Most of the story takes place between the East and West, which have been cut off from each other for centuries. Each region has its own culture, religion, mythology, beliefs, and more. The level of detail in the worldbuilding is just stunning – after 800 pages, I still felt like there was more to learn.
Plus, DRAGONS.
Do you like your dragons to be evil? This book has evil dragons! Do you like friendly dragons? This book has 'em too! This is basically a dragon-lover's dream book.
On to the characters! I've often found that in high fantasy, the characters' development is sacrificed in favor of a cool plot or worldbuilding. Luckily, this book manages to have both of those things in addition to amazing characters.
The story follows four main perspectives:
Ead, an attendant of Queen Sabran of Inys, hiding her true identity as a magic-wielder in order to protect the queen from those who want to harm her. Ead's perspective is the most prominent in the story, and certainly my favorite to follow.
Loth, a nobleman from Sabran's court, sent away on a deadly mission with little hope of ever returning home.
Tané, a young woman in the East who has spent her life training for the chance to be a dragonrider, who might lose everything because of one crucial decision.
Niclays, an alchemist exiled to the East who is willing to go to desperate lengths to regain what he lost.
This is only the tip of the iceberg in terms of characters – there are so many! It does get confusing at times, but luckily there is a spoiler-free character index at the back that I constantly checked to make sure I knew who everyone was.
All of these characters have different storylines, and at first it seems like they have nothing to do with one another. But once puzzle pieces start falling into place, you see how things are connected, and everything that seemed insignificant at first becomes crucial to the story. There were multiple points that I gasped out loud as I Realized where things were going, even when the characters didn't. I love that feeling!
Some more things I loved about this book:
The romance! There is a prominent f/f romance that, while not crucial to the plot, is important for both characters' development and the decisions that they make in the course of the story. I won't spoil who it is because it was fun figuring it out as I went! I loved the dynamic between the two, especially how they were both able to piss each other off like nobody else could.
The sense of history. It was so clear that Samantha Shannon had fleshed out this world fully, down to stories of history that become crucial to the plot. And it was so realistic that different cultures interpreted historical events differently and based their beliefs on their version. I want to read a history book from this world or something, since everything was fascinating!
The story centers around women. So much high fantasy doesn't know how to treat its female characters with respect (*cough* GameofThrones *cough*) but this book puts their voices and stories in the spotlight. Plus, these women are never belittled for their gender. While there's certainly a place for fantasy that critiques how women are treated in our world, it's refreshing to read a fantasy world where women can be powerful and face obstacles other than blatant misogyny.
The dragons!! Is it too much to ask for a dragon of my own to ride around on?? Please?? This is all I want.
There's also a character with (almost) the same name as me and she is awesome.
With such a sweeping and complex story, it is easy to get lost at times in the details of magic or history. There were times that I had to read a part multiple times to make sure I understood what was happening, and other moments when I simply had to keep going even though I wasn't entirely certain I understood. I don't know how this could have been avoided, and maybe it's simply a sign that I wasn't reading closely enough, but that's the main reason I gave this 4.5 instead of 5 stars.
By the time I closed the final pages, though, I felt like I had read an entire series or binged a whole TV show. So much changed from the first page to the last. I never could have imagined starting out that we would end the way we did. This book was a journey – one that I'm so happy that I took. Now I have a whole new standard for epic fantasy and I'm not sure how anything will live up to it again!
"No woman should be made to fear that she was not enough."
Similar books:
x Margaret 
goodreads | twitter | pinterest
Pin this!