Let's talk about five of the books I've read recently!
(Recently read book #1 and #2.)

Speak by Laurie Halse Anderson
"When people don't express themselves, they die one piece at a time."
Content warnings: rape, self harm, suicidal thoughts
This book follows Melinda, who is starting high school with no friends and no voice. After a traumatic experience at a party over the summer, she finds that she can't talk at all about what she went through.
It's easy to see why this book has been so popular and so important for so long. Even twenty years after its publication, it still feels relevant. I listened to this on audiobook – which I highly recommend – and I couldn't listen to too much at a time without getting overwhelmed.
Still, despite its obvious importance in discussions about rape and rape culture, the story itself wasn't super appealing to me personally. Besides Melinda's personal, internal conflict, there wasn't much going on. And while that was emotional and impactful in its own way, the rest didn't draw me in. Plus, I wanted more resolution from the ending – it ended up feeling rushed. I enjoyed this book – if enjoyed is the right word in this situation – but I did want a little more from it in terms of plot.
The Forgotten Sisters by Shannon Hale (Princess Academy #3)
"Reading a book is like going on a great journey. You don't know what'll happen, but something is bound to change."
In the third and final book in the Princess Academy trilogy, Miri is sent to a remote swamp to start her own Princess Academy for three cousins of the king in hopes of preventing a war.
As usual with these books, Miri herself is such a delight to read about. I love her character so much! And Shannon Hale's books always emphasize female friendships and the power of girls, which I so appreciate. I'll admit that I got a little emotional finishing this book and realizing that it was the end of Miri's story, a story I've loved since I was in elementary school. But this was such a beautiful conclusion to the trilogy. Even though I felt that some of the conflicts wrapped up a little too neatly, I still thoroughly enjoyed the story and seeing Miri come full circle from the start of the series. Plus, Miri and Peder's relationship is so adorable!
The Past and Other Things That Should Stay Buried by Shaun David Hutchinson
"Grief is quiet. Grief is a strangled cry. Tears we hide. A scream in a vacuum where sound doesn't carry. And though we try to share it, grief is ultimately a burden each of us must carry alone."
Content warnings: gore, mention of suicide, homophobic slurs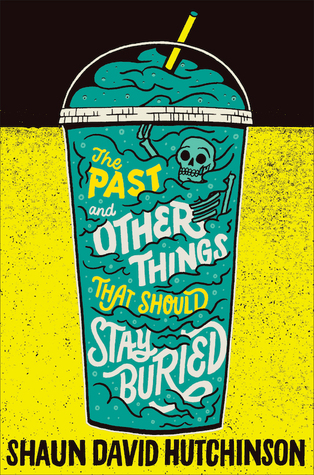 Dino's former best friend, July, has just died…and then come back to life. As the two of them try to figure out why July is an undead zombie-thing, they also have to work through why their friendship fell apart.
When I first heard about this book, it was pitched as similar to Pushing Daisies, one of my favorite TV shows. And while I can definitely see the similarities, they just don't compare.
I did like that this book was all about friendship – how platonic relationships can be the most important relationships you have, and how friend break-ups are just as painful as romantic break-ups. I also thought that the depiction of grief and Dino's development as a character were both done really well.
Where this book fell short for me was that…I didn't understand what was happening. Or rather, I understood, but I didn't know why it was happening. Characters would sometimes make decisions or say things that didn't make sense with no explanation. Also, there was simply a lack of tension throughout the entire story. Even though there was a huge, world-wide crisis going on, I never felt like there was much at stake. It was weird. Plus, I spent much of the book just hating July.
I keep going between a 2.5 and 3 stars, but the more I think about this book, the less I like it, so I think this is where I've settled.
Daisy Jones & the Six by Taylor Jenkins Reid
"I think you have to have faith in people before they earn it. Otherwise it's not faith, right?"
Content warnings: drug and alcohol addiction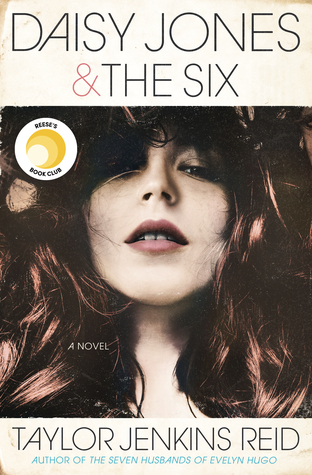 The rise and fall of Daisy Jones & the Six, a famous (fictional) 70s rock band, is chronicled as an oral history, focusing on its two lead singers, Daisy Jones and Billy Dunne. For a brief moment, the band was at the top of the world, before breaking up with seemingly no explanation.
If I didn't know any better, I probably would have spent this entire book thinking this was a real band. When I saw Taylor Jenkins Reid speak a few months ago, she said that she didn't know anything about 70s rock when she started writing this, but I never would have guessed that – it sounded like it was written by somebody who was actually there. All of the characters felt so real, with their distinctive voices and styles of speaking, creating a unique way of experiencing the story.
Still, I think the hype got to me a little on this one, and I couldn't help comparing it to The Seven Husbands of Evelyn Hugo. This book was lovely, but I wasn't as invested – I didn't feel like I couldn't put it down like when I was reading Evelyn Hugo. Even so, Taylor Jenkins Reid does such an amazing job telling beautiful, heart-wrenching, and emotional stories. I might not have spent this entire book utterly connected to the characters, but I still found myself affected by the ending.
The Bands of Mourning by Brandon Sanderson (Mistborn Alloy Era #3)
"I'm wondering if every person I pass has similar depths, and if there's any way to avoid the mistake of judging them so shallowly that I'm rocked when they show their true complexity."
Content warnings: violence, gore
The third book in the Alloy Era series follows the gang – Wax, Wayne, Marasi, Steris, etc. – several months after the last book, searching for the mythical Bands of Mourning that supposedly belonged to the Lord Ruler.
My thoughts on this book are pretty similar to my thoughts on the last one. Brandon Sanderson is an incredible storyteller and I am constantly amazed by the depths of his worldbuilding and plotting. Some of the characters get quite a bit of development in this book, making me like them more than ever. And WOW, Sanderson knows how to write an ending that makes me want to come back for more! Sadly, the next book doesn't even have a release date yet!
Still, I never felt as connected to the story or the characters like I wanted to be. I've realized that the sense of humor in these books just doesn't match with my sense of humor at all, which makes the moments that are meant to be funny just feel awkward. I still plan to continue this series, though…if that next book ever comes out.
Have you read any of these books? What have you read recently?  
x Margaret