Let's talk about five of the books I read toward the end of May and the beginning of June!

The Girl from Everywhere by Heidi Heilig
"Sometimes a person has to let go of something to take hold of something else."
Content warnings: drug addiction
Nix grew up on the Temptation, a ship that can travel anywhere in time as long as it has the proper map. Her father's obsessive quest to save her mother has taken them to 19th century Hawaii, and now Nix's very existence is at stake.
I loved the concept of this book – a ship that travels through time?? SO COOL. There was so much potential with this! I also loved the Hawaiian setting, which felt so alive. Knowing very little about Hawaiian history, it was cool to get a history lesson through this book.
Unfortunately, this book just didn't do it for me otherwise. Even though I was intrigued to see what happened, I never felt invested, and the odd pacing of the writing made it hard to keep track of the emotional beats. Plus, there was an annoying love triangle where one of the options was obviously so much better and the other was a stale whitebread boy with no personality. *Sigh*
I Hate Everyone But You by Gaby Dunn & Allison Raskin
"Everyone always talks about the effort you have to put into a romantic relationship or a marriage, but why would a friendship be any different? You are always going to be more important to me than some random boy I marry."
Content warnings: self harm, alcohol abuse, OCD, anxiety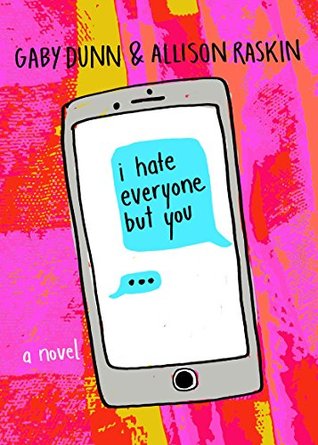 Two best friends, Gen and Ava, go to college on opposite coasts, but they keep in touch constantly. Over the course of their first semester, they undergo roommate problems, relationship drama, questions of identity, and lots more, updating each other on every moment of it.
I ended up picking this book up one night at random, reading the first half before I went to bed, and then immediately finishing it after I woke up in the morning. It's a fairly quick read, since it's all told through emails and texts – not my favorite style, but it worked for me in this context!
Gen and Ava both have hilarious, distinctive voices that made it nearly impossible to put the book down. Even though both could be extremely frustrating at times, making me want to reach into the pages to shake sense into them, I still felt like I understood and empathized with both. Even though I related more to Ava (going into college unsure how to make friends and always feeling on the outside of things), there were still aspects of Gen's college experience that I saw myself in. Through all the ups and downs of this wild semester, though, the friendship between these two girls remains the most important relationship in their lives, and I love that.
The Bird King by G. Willow Wilson
"It's convenient for girls to be angry about nothing. Girls who are angry about something are dangerous. If you want to live, you must learn to use your anger for your own benefit, not the benefit of those who would turn it against you."
Content warnings: rape, torture, gore, alcohol abuse
Set in 15th century Iberia during the reign of the last Muslim sultan, this book follows Fatima, a concubine, and her best friend, a mapmaker named Hassan. When the Spanish Inquisition shows up and discovers Hassan's ability to alter reality with his maps, the two must run away and search for the mythical island of the Bird King.
My favorite aspect of this book was Fatima, by far. She spends this book so angry, yet unsure where to direct her rage and turn it into something useful. I love when women in fiction are allowed to be angry, and watching her journey through the course of this novel was beautiful!
Starting out, this book had a lot of promise and I found myself enjoying it. Toward the end, however, it sort of fell apart. I don't know how to talk about it without spoiling things, but in general the ending felt off. I liked the message it was sending, but the execution wasn't all there. The writing in this book was absolutely beautiful, when it came to internal reflection and character moments. However, I don't think this writing style worked very well with fast-paced action scenes. Still, despite these complaints, this was a gorgeous book that I still recommend!
The Great Unknowable End by Kathryn Ormsbee
Content warnings: animal death, mentions of suicide
Set in 1977 small-town Kansas, this book follows two characters: Galliard, a member of a cult/commune on the edge of town, and Stella, a girl with dreams of being an astrophysicist. Their lives collide when strange things start happening in their town that might just foretell the end of the world.
I…honestly can't quite tell what I didn't like about this book, and why it ended up being such a disappointment. It wasn't bad by any means. The concept was really interesting and the atmosphere of the slowly approaching titular end was well done and eery. I got the 70s vibe really strongly, making me feel like I could imagine myself into a time and place that I've never been.
Other than that, though, there wasn't enough about this that I liked to rate it any higher. Too much of the book was just fine. The characters were kind of interesting but mostly just fine, the plot was slow but it was fine. Nothing leapt off the page and grabbed me, and that's probably partly a personal preference thing. But since my ratings are all about personal preference, there we are.
Also, for a book that's all about the great ending, the end of this book felt quite anticlimactic. I closed this with an overwhelming sense of so what? This is disappointing, since Ormsbee wrote one of my favorite contemporaries (Tash Hearts Tolstoy) but sadly, this book just wasn't for me.
The Song of Achilles by Madeline Miller
"I will never leave him. It will be this, always, for as long as he will let me."
Content warnings: war, violence, mention to rape, mention of suicide, slavery
This retelling of the Iliad is narrated from the perspective of Patroclus, Achilles' lifelong companion and lover. I read this for the first time in high school, about four or five years ago, and figured it was about time to revisit it, having somehow forgotten how much pain it put me through the first time.
Everyone who knows the story of the Iliad, or even knows the barest bit about Greek mythology or the Trojan War, knows exactly how this story is going to end, which means that the amount of dramatic irony throughout this book is agonizing. It truly is a Greek tragedy – you can only watch in horror as these characters try to avoid fate and are brought down by the qualities they value most, such as Achilles' pride and Patroclus' loyalty. I'm pretty sure it's impossible to read the ending without crying.
Still, despite the fact that much of this book is a war story and a tragedy, it's also largely a love story. The way that Madeline Miller writes Patroclus' love for Achilles is so tender, to the point that sometimes I had to pause the audiobook just to breathe. What I'm trying to say is that this is one of the best love stories ever written, basically.
Anyway, this book killed me, so please have my ashes mingled with its remains.
Have you read any of these books? What have you been reading recently?  
x Margaret