I Wish You All the Best
by Mason Deaver
"I didn't say you shouldn't feel sad. I'm just saying you need to prove them wrong… Be sad, hell, sit in bed all weekend and just watch Netflix. I've had those times too. But don't stop living your life for them."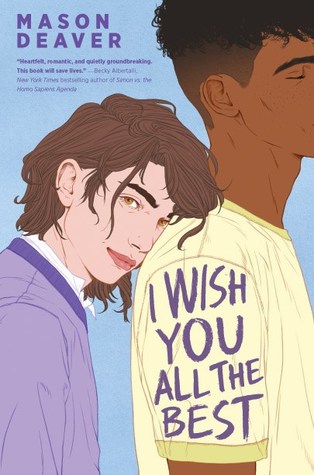 Published May 14, 2019 by Push
336 pages
Genre: YA contemporary
Date finished: June 7, 2019
Content warnings: transphobia, parental abuse, anxiety, panic attacks
Summary:
When Ben De Backer comes out to their parents as nonbinary, they're thrown out of their house and forced to move in with their estranged older sister, Hannah, and her husband, Thomas, whom Ben has never even met. Struggling with an anxiety disorder compounded by their parents' rejection, they come out only to Hannah, Thomas, and their therapist and try to keep a low profile in a new school.
But Ben's attempts to survive the last half of senior year unnoticed are thwarted when Nathan Allan, a funny and charismatic student, decides to take Ben under his wing. As Ben and Nathan's friendship grows, their feelings for each other begin to change, and what started as a disastrous turn of events looks like it might just be a chance to start a happier new life.
At turns heartbreaking and joyous, I Wish You All the Best is both a celebration of life, friendship, and love, and a shining example of hope in the face of adversity.
My thoughts (spoiler free)
Hi everyone, allow me to introduce you to my new child who I would protect with my life: Ben De Backer. Thank you, that's all.
Just kidding – you're not going to get me to shut up about this book that quickly.
You know when you're reading a book and it fills you with this overwhelming feeling that you can't quite name, that's not quite happy and not quite sad, keeping you glued to every word on the page even if the plot itself isn't fast paced? I call that feeling Softness™, and most of my favorite contemporary books nail it perfectly. And I Wish You All the Best is one of them.
This book follows Ben, a nonbinary kid who is kicked out of their home when they come out to their parents. Moving in with their sister, whom they haven't seen in ten years, Ben essentially has to start over at a new school. Their attempts to stay under the radar are unsuccessful, however, when they befriend an outgoing classmate named Nathan.
Somehow, Mason Deaver manages to take a topic that's incredibly difficult to read about and turn it into a hopeful, beautiful story that's overflowing with love. Despite Ben's awful situation, we are reminded that they are not alone and that there is always a way for things to get better. I can tell that this book is going to be so important for so many people.
There's so much I want to praise about this book, so here are just a few more things that I loved:
💜 I basically spent the entire book wanting to wrap Ben in a warm blanket. The protective instincts were BIG for this kid. Still, Ben was never helpless or annoyingly pathetic – their strength and resilience in the face of difficulty only made me love them more.
💛 I can't talk about characters I love without talking about Nathan! From his silliness to his bad jokes to his protectiveness of Ben, he lit up every page that he was on.
💜 The relationship between Ben and their sister, Hannah, was so thoughtful and well done. Since Ben grew up mostly without Hannah around and felt somewhat abandoned by her disappearance, the two are essentially strangers when they reunite at the beginning, and their evolving relationship over the course of the story is one of my favorite aspects.
💛 SO MANY important discussions were brought up in this book! Not only does it essentially deconstruct every conventional understanding of gender, but it goes in depth about Ben's mental health and their journey through therapy. Not to sound like a broken record, but I'm so happy that this book exists for young people to find and see themselves in. Becky Albertalli's blurb on the cover is right: this book will save lives.
💜 The writing is utterly captivating. I felt everything as Ben felt it; their anxiety made me anxious, their joy made me hug the book with happiness. This doesn't feel like a debut novel to me. I can't wait to see what Mason Deaver does next!
💛 Obviously, the romance was perfect. I feel like I'm overusing the word "soft," but that's the best way I can describe it. It was soft and gentle and lovely and perfect.
Essentially, this ended up being one of those books that left me with an indescribable mixture of sadness and happiness that makes it very difficult to write a review for. The hype for this book is not undeserved; I want this to get ALL the love and praise!
If you're still not sure what I mean by softness in describing this book, just stare at that cover and that title for a while. The way those make you feel is how the book makes you feel. And if you're still not convinced…just read it. This book is worth it.
"The world's too loud sometimes."
Similar books:
x Margaret 
goodreads | twitter | pinterest
Pin this!