I've been reading some summery books lately to get into the mood! Let's talk about five of the books I've read recently.

To Night Owl from Dogfish by Holly Goldberg Sloan & Meg Wolitzer
"I don't know why they try to sell smaller candy bars as being more fun than the bigger ones. That's just a lie."
Content warnings: bullying, anxiety
Two twelve-year-old girls on opposite coasts start up an email correspondence when they find out that their dads are dating. Not liking the idea of the summer camp they're being sent to, and determined not to become friends, they conspire to break up their dads and stop this whole disaster in its tracks.
The number of times I laughed out loud while reading this book is ridiculous. Both Bett and Avery, the two main characters, have distinctive, hilarious voices that are so clear in the emails that tell the story. Both of them are smart and thoughtful, yet they still feel like kids – they take everything so seriously, which only adds to the hilarity.
On top of its amusing writing and quirky characters, this ends up being a genuinely touching story about family and life-changing friendship. It's technically a middle grade, but I recommend it for anyone, honestly!
Witchmark by C.L. Polk
Content warnings: abuse, discussions of war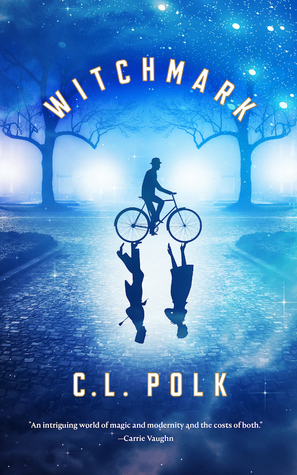 Set in a fantasy world similar to Edwardian England, this book follows Dr. Miles Singer, a witch in hiding who works at a veterans hospital and helps the soldiers returned from a recently ended war. When a murder happens in close proximity to him, he tries to figure out what happened, all while staying unnoticed by his family and wondering who to trust.
Maybe it's me being dumb, but I did not understand the worldbuilding in this book at all. The parts that I did comprehend were interesting and unique, but I never felt like I had enough context or information to grasp it. Then when we did get worldbuilding info, it often felt conveniently placed for plot reasons – like "learn about this new thing that you didn't know existed two minutes ago that will help the characters get out of the situation!" – which was frustrating.
Plus, I never really felt all that interested in the main character or the romantic side plot. While this book had cool concepts and a lot of potential – and it wasn't like I was bored throughout – I think on the whole it just wasn't for me.
Summer of Salt by Katrina Leno
"On the island of By-the-Sea you could always smell two things: salt and magic."
Content warnings: rape, animal death
Georgina grew up on the tiny island of By-the-Sea, where all the women in her family were born with extraordinary abilities – except for her. Over the course of one summer, the whole island is changed because of some magic, a missing bird, and a murder.
My favorite part of this book was definitely the atmosphere of the island, which essentially became a character of its own. The writing was so evocative that I could feel the salt in the air, the rain-soaked ground, the windy cliffs. Even when the story ventured into more fabulism territory, it felt grounded in the world because of how solidly the setting was built.
All of the characters in this book were so well done, even the ones that were only on the page for a short time. I especially loved the relationship between Georgina and her mother, which wasn't central to the plot but was still very sweet. However, there were some points when the pacing felt a little off. And I liked where the story ended up but I wish there had been a bit more setup to make the resolution more satisfying. Still, this is a short and sweet book, one that I read quickly but won't forget about anytime soon!
Summer Bird Blue by Akemi Dawn Bowman
"Because there are years of the past and years of the future, and we're all simply one tiny blip in time—a surge of water waiting to leave our mark on the sand, only to have it washed away by the waves that come after us."
Content warnings: death of family member, suicidal thoughts
After her younger sister's sudden death, Rumi is sent to live with her aunt in Hawaii, where she struggles with her grief and slowly heals due to befriending her next-door neighbors.
This was not an easy book to read! Rumi's grief and anger is palpable from the page, making it impossible not to empathize with her even when she's at her most unlikeable. I loved the exploration of all the different relationships in her life, and I especially loved Rumi's gradual discovery of her own identity through her friendship with Kai, the boy next door.
I know this is an important and emotional book, but I still found myself constantly wanting…just a little bit more from it. There isn't much in the way of plot, which I don't mind when the story is still engaging – but in this case it felt too unstructured. It felt like Rumi came to the same revelations over and over again, relearning lessons she'd already learned a few chapters back. And I get that that's how life works, especially when you're grieving, but when it's the entire plot of the book? It got a bit frustrating. Lots of emotions from this book, but I still found myself wishing for a little more.
The Tea Dragon Society by Katie O'Neill
"Memories don't just live inside you, Minette. They live in all the people and objects you share your life with."
This short and sweet graphic novel follows a young girl named Greta who, after returning a lost dragon to its owners, learns about their magical tea making and the dragons that grow tea leaves from their horns.
Basically everything about this book was soft and sweet and feel-good, from the artwork to the story to the relationships between the characters. It was pretty simple overall, and the whole book took me less than an hour to read, but I loved the found family aspect and the love between all of the characters. I'd definitely recommend this if you're in need of some cheering up! Also, I now desperately want a tea dragon of my own. Please? Who can I speak to about making this happen??
What books have you read recently? Have you read any of these?
x Margaret