Goodbye, June – hello, July!
June always feels like a transitionary month to me, and this year is no exception. It's not quite spring and not quite summer, and where I live, the weather is kinda teetering on the edge of both. July is typically the more exciting and summery month (my birthday! traveling! sunshine!), so June often feels like I'm just waiting around for that to come. Plus, I'm currently in a state of post-graduation confusion where I'm finally realizing that I'm not going back to school in the fall… so this summer isn't like summers I've had before. Wild.
Luckily, this month I was able to get plenty of reading done despite all of that!
I read a total of 13 books in June, with an average rating of 3.7 stars and a total of 4,053 pages. There were some highs and lows in terms of books I read, as usual. Let's get into what I read, starting from my least favorite and working my way up.
Books I Read
Once & Future by Amy Rose Capetta & Cori McCarthy ⭐️⭐️/5
This book was…not what I hoped it would be. The concept is fantastic, but the execution was not there for me. More in-depth thoughts in an upcoming post.
The Great Unknowable End by Kathryn Ormsbee ⭐️⭐️.5/5
Even though the atmosphere of this book was cool, nothing else about it really stood out to me, and it ended up being pretty forgettable overall. More thoughts here.
Summer Bird Blue by Akemi Dawn Bowman ⭐️⭐️⭐️/5
This book about grief and forgiveness is a tough read, but it did evoke some real Emotions, and I appreciated the aro-ace representation. However, it felt like way too much telling me how Rumi was feeling rather than showing me, and the plot was sloooow. More thoughts here.
Witchmark by C.L. Polk ⭐️⭐️⭐️/5
Another book with a really cool concept and some interesting ideas explored, but I never felt like I grasped the worldbuilding, which just made it confusing to read. More thoughts here.
Tell Me How You Really Feel by Aminah Mae Safi ⭐️⭐️⭐️⭐️/5
Such a fun and cute book, with rom-com elements, enemies-to-lovers, ambitious and opinionated characters, and all the drama you could possibly ask for! My full review is here. 
Summer of Salt by Katrina Leno ⭐️⭐️⭐️⭐️/5
An atmospheric, summery book that transported me to the tiny island of By-the-Sea. I loved the magical elements and the emphasis on the importance of relationships between women! More thoughts here.
The Tea Dragon Society by Katie O'Neill ⭐️⭐️⭐️⭐️/5
Basically, a short and sweet graphic novel that made me desperately want to own a tea dragon on my own. It made my heart feel soft. More thoughts here.
This Is How You Lose the Time War by Amal El-Mohtar & Max Gladstone ⭐️⭐️⭐️⭐️/5
(RELEASE DATE: JULY 16th)
I'll have a full review up soon, but here's a sneak peak: this book BLEW. MY. MIND. I think I'm still trying to wrap my head around it. Time travel and secret romance and BEAUTIFUL writing – what more could you ask for??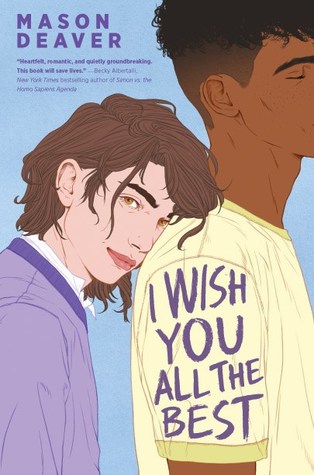 To Night Owl From Dogfish by Holly Goldberg Sloan & Meg Wolitzer ⭐️⭐️⭐️⭐️.5/5
This hilarious middle-grade book has it all – ridiculous characters, rom-com shenanigans, secret email correspondence, family drama, etc. I had so much fun reading this! More thoughts here. 
The Song of Achilles by Madeline Miller (reread) ⭐️⭐️⭐️⭐️⭐️
Rereading this book after four or five years was no less heartbreaking!!! Even thinking about it makes my heart hurt. Wow this book is so incredible but so painful. More (gushing) thoughts here.
I Wish You All the Best by Mason Deaver ⭐️⭐️⭐️⭐️⭐️
This book somehow both broke and healed my heart all at once. I want to protect Ben with my life. My full review is here.
Harry Potter and the Chamber of Secrets (reread)
I'm continuing my audiobook reread of the Harry Potter books! I've decided not to rate these, as I discussed in my post about nostalgia, but they're obviously still wonderful. Chamber has never been my favorite of the books, but I loved revisiting it nevertheless. J.K. Rowling is SO GOOD at writing mysteries and dropping in tiny clues that you might not even catch until the 13982947th reading.
Harry Potter and the Prisoner of Azkaban (reread)
Hi, my name is Margaret and I love Remus Lupin so much. That's my main takeaway from this reread.
Okay, but really, Prisoner is among my top HP books, and that isn't changing anytime soon. I love learning the Marauders backstory and seeing how all the different story threads cleverly weave together at the end with the time travel aspect. And, of course, every time Lupin appears in a scene, my heart grows 10 sizes.
June Blog Posts
🌳 Mary Drover discussed how you know when your novel is done, including her own experience with completing a novel (CONGRATS).
🌳 May @ Forever and Everly gave some tips on increasing interaction on blog posts as well as some suggestions of book bloggers who are really good at it!
🌳 Caitlin @ Caitlin Althea's recommendation post, "If You Liked This Queer Contemporary, Try This Queer SFF," has some amazing books in both categories!
🌳 Abi @ Scribbles & Stories gave some AWESOME recommendations for books with asexual representation!
🌳 Xandra @ Starry Sky Books talked about everything we need from a Percy Jackson TV show, and I'm pretty sure I secretly co-wrote this in my sleep because I so strongly agree with everything she said.
🌳 The Orangutan Librarian gave a passionate defense of genre fiction, which made me want to stand up and cheer in agreement!
Other Things
Good Omens
Yes, I've been talking and thinking about this show nonstop all month, and no, I'm not going to stop anytime soon. This adaptation of the book by Neil Gaiman and Terry Pratchett came out at the end of May, and I technically watched it in that month since I watched it all in one day – but I didn't get a chance to talk about it in my May wrap-up, so here we are! This was just such a FUN adaptation that completely captured the feeling of the book. I think I like it even a little more than the book! David Tennant and Michael Sheen were perfect as Crowley and Aziraphale. I had my doubts at first, but now I can't imagine anyone else in those roles!
Bastille – Doom Days
My favorite band came out with a new album this month and I love it! It's so dark and apocalyptic – feels perfect for the world we're living in at the moment. Yay. I've been listening to it a ton this month and haven't gotten tired of it yet! My favorite songs at the moment are "The Waves," "4AM," and "Doom Days"… but to be honest there isn't a single song on the album that I don't like. It's been a long wait for this album, so I'm very happy that it does not disappoint.
July TBR
Hurricane Child by Kacen Callender
The Fifth Season by N.K. Jemisin
Shatter the Sky by Rebecca Kim Wells (eARC)
The Merciful Crow by Margaret Owen (eARC)
The Gap of Time by Jeanette Winterson
This Savage Song by Victoria Schwab
The 7 1/2 Deaths of Evelyn Hardcastle by Stuart Turton
Damsel by Elana K. Arnold
What books did you read in June? Any new favorites? What do you plan to read in July?
x Margaret 
goodreads | twitter | pinterest
Pin this!