Gideon the Ninth
by Tamsyn Muir
"Gideon, don't be sorry for the dead. I think death must be an absolute triumph."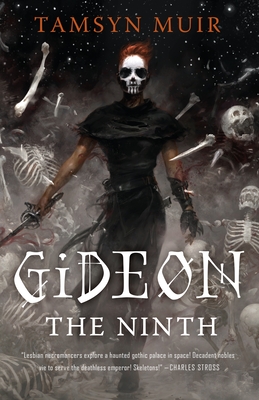 To be published Sept. 10, 2019 by Tor.com
448 pages
Genre: science fantasy
Date finished: Aug. 24, 2019
Content warnings: body horror, gore, violence, suicide, mention of child death
Summary:
Brought up by unfriendly, ossifying nuns, ancient retainers, and countless skeletons, Gideon is ready to abandon a life of servitude and an afterlife as a reanimated corpse. She packs up her sword, her shoes, and her dirty magazines, and prepares to launch her daring escape. But her childhood nemesis won't set her free without a service.
Harrowhark Nonagesimus, Reverend Daughter of the Ninth House and bone witch extraordinaire, has been summoned into action. The Emperor has invited the heirs to each of his loyal Houses to a deadly trial of wits and skill. If Harrowhark succeeds she will become an immortal, all-powerful servant of the Resurrection, but no necromancer can ascend without their cavalier. Without Gideon's sword, Harrow will fail, and the Ninth House will die.
Of course, some things are better left dead.
My thoughts (spoiler free)
Do you like skeletons? Do you like swords? Do you like spaceships? What about snarky narrators, or horrifying bone monsters, or locked house murder mysteries, or questions of what it means to be mortal? If you answered yes to any of these questions, then hi, I'd like to talk to you about Gideon the Ninth.
This book opens on Gideon Nav, a swordswoman raised in the Ninth House, who wants nothing more than to get away from its skeleton-filled tunnels. After a failed escape attempt, she is forced to join the Ninth's necromantic leader – and Gideon's long-time rival – Harrowhark, to answer the Emperor's call for the heirs of all eight houses. Success could mean immortality at the Emperor's side, and failure inevitably means a grisly death.
The highlight of this book, by a mile, is Gideon's voice. She is snarky, sarcastic, and a little juvenile, which caused me to burst out laughing in public on multiple occasions. This character type is usually only male characters, so it was refreshing to see this in a female character. Also, bad puns. So many bad puns and dad jokes, which are about 80% of my sense of humor and made me love her even more.
"'This calls for rigor, Nav.'
'Maybe rigor…mortis,' said Gideon, who assumed that puns were funny automatically."
Harrowhark is the second main character in this book. Since we (almost) never get her POV, we see her through Gideon's perspective, which is far from flattering. Nonetheless, I adored her as well. Thrust into a leadership position at a young age, she is a prodigious necromancer determined to prove herself through success in the Emperor's trials. Plus, she's constantly grumpy and unashamedly creepy, which I respect.
Another major highlight of this book for me was the relationships between Gideon and Harrowhark. They grew up hating each other and spend this book constantly at each other's throats, but they have to work together in order to stay alive. Their relationship is messy and complicated and never easy to put a name to. Basically, two stubborn women respectively love swords and bones more than themselves or each other and…well, obviously I ship it.
Plenty of other side characters come into play as well, as Gideon and Harrowhark meet the necromancers and cavaliers (swordspeople) from the other Houses. I became attached to them despite myself – as in, things would happen to them and only then did I realize how much I cared about them. I'll say no more…
"'This won't work,' she said. 'I've never had to work with something so small before.'
'That's what she said,' murmured Gideon."
Much of this book's plot is wrapped up in the mystery of how to complete the Emperor's trials, but for me, that wasn't the most interesting part. In fact, I found myself a bit lost for much of it, since so much hinged on dense necromantic theory that wasn't fully explained. Maybe it's me being dumb, but parts of the worldbuilding didn't feel completely fleshed out or explained in a way that I could follow.
That said, the worldbuilding in general was incredibly inventive! This book is a science fantasy, which essentially means there's magic in space – aka YES PLEASE. Once I got the hang of the general setup of the Houses, I was able to follow along without too much difficulty. Still, I'm desperate to know more, since this book only offered a slice of a world that feels much huger!
Tamsyn Muir also managed to create the perfect creepy aesthetic and atmosphere. Basically, if you look at the cover, that's the feeling that the entire book evokes. (Plus, the finished copy has sprayed black edges, which looks SO GOTH AND COOL.)
In summary: I love Gideon Nav with my whole heart. And I'm genuinely upset that I have to wait for the second book because HOW. HOW, I ask??? You can't end on something like that and not give me a second book immediately!! I am distraught.
"While we were developing common sense, she studied the blade."
*ARC PROVIDED BY EDELWEISS IN EXCHANGE FOR AN HONEST REVIEW. QUOTES ARE SUBJECT TO CHANGE.*
Similar books:
x Margaret 
goodreads | twitter | pinterest
Pin this!