I've decided that for Halloween I'm going to dress up as the size of my TBR, since that's the scariest thing I can think of.
Happy first day of autumn, everyone! This fall, there are so many books I want to read – spooky books, new releases, ARCs, books to fulfill my 2019 reading goals, and more. Today I'm talking about 18 books that I hope to get to within the next few months. Ambitious, I know, but I believe I can do it!
A few of these I've already talked about in previous anticipated releases posts, so I won't get into that too much now. Needless to say, this fall has some of my most anticipated books of 2019 and I NEED THEM ALL NOW. I'm impatient.
Now let's talk about the books I want to read!
Lair of Dreams and Before the Devil Breaks You by Libba Bray (The Diviners #2-3)
The time has come to continue with The Diviners series! The fall seems like the perfect time for these spooky, slightly terrifying books, especially since the fourth and final (? I think) book comes out in early 2020. Gotta get caught up!
The Starless Sea by Erin Morgenstern
Everyone seems to be talking about the upcoming book by the author of The Night Circus – and lucky me, I have an ARC! I definitely want to read this before it comes out, so that'll probably be within the next few weeks.
Tunnel of Bones by Victoria Schwab (Cassidy Blake #2)
The sequel to City of Ghosts is out and I'm SO EXCITED to read it! Perfect timing, really, because what better time to read about ghosts in the catacombs of Paris than during the Halloween season??
Orpheus Girl by Brynne Rebele-Henry
My Greek mythology obsession continues with another retelling of the Orpheus myth. I've heard mixed reviews of this one but I'm still eager to read it (if only to help boost up my NetGalley feedback ratio oops).
Now Entering Addamsville by Francesca Zappia
I know next to nothing about this book except that it's spooky, the main character is ace, and it's written by the author of Eliza and Her Monsters, which is really all I need in order to pick it up!
The Library Book by Susan Orlean
In my ongoing mission to read more nonfiction, I'm planning to pick up this true crime (??) book about the LA Public Library system and a fire that devastated it in the 1980s. I'm tentatively hopeful!
Five Dark Fates by Kendare Blake (Three Dark Crowns #4)
I'm not remotely emotionally prepared for the last book in the Three Dark Crowns series, but it's out now so I guess I've gotta read it. Oh boy.
Are You Listening? by Tillie Walden
This is another book that I know very little about besides the fact that it's by an artist/author that I love and I need to get my hands on it ASAP! Tillie Walden has never disappointed me once and I doubt this book will be any exception.
Lovely War by Julie Berry
Am I getting my hands on every single Greek mythology-related book I can? Yes. Do I have any regrets? Not one. This book is supposedly narrated by Aphrodite and tells multiple love stories from WW1 and WW2 and it sounds SO COOL.
The Dreadful Tale of Prosper Redding by Alexandra Bracken
I've been wanting to read this book for ages but it didn't feel right to read it at any time except the fall! This is a middle grade book involving demons I believe, and I think it's going to be lots of fun. And maybe I'll even get to the sequel this fall?? But let's not get our hopes up too much.
Pride, Prejudice, and Other Flavors by Sonali Dev
I have no reason to read this book now other than the fact that it's been out in the world for a few months now and it feels Wrong that I haven't read it yet, since I try to read every Pride and Prejudice retelling I can. I can't wait to dive into this one!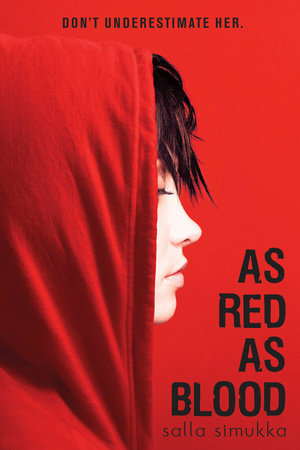 As Red As Blood by Salla Simukka
One of my goals this year is to read more books from other countries, so this Finnish YA thriller seems like the perfect thing to pick up this fall!
Pumpkinheads by Rainbow Rowell and Faith Erin Hicks
I mean, how could I possibly not read this book around Halloween?? This graphic novel seems like just the thing to pick up in between some of these darker books I'm planning to read, without loosing the feel of the season!
The Little Stranger by Sarah Waters
I've been wanting to read this for ages and hopefully this fall I'll actually get around to it! I mean, historical horror mystery?? This SCREAMS fall reading. Hopefully not literally, but you never know with horror books…
Wayward Son by Rainbow Rowell (Simon Snow #2)
*deep breath* THIS BOOK COMES OUT TOMORROW!!!!!!!!!! Yeah, I've been excited for this book from the second it was announced last summer, and the fact that I'll have read it within the next few days is Something.
Ninth House by Leigh Bardugo
Leigh Bardugo's adult paranormal mystery sounds SO AMAZING I cannot wait to read it! I know it's going to terrify me and I'm so excited. Plus, Leigh Bardugo is doing an event near me so I get to meet her again!!!
Call Down the Hawk by Maggie Stiefvater
If you listen carefully, you can hear me sobbing about the fact that I still have to wait for this book. I'm currently in the middle of a Raven Cycle reread, which is only making me more excited for the first book in this sequel trilogy! Nothing else is as important as this tbh…I'm going to put down my entire life once this is in my hands.
What books do you hope to read this fall? Have you read any of the ones on my list? What are your most anticipated fall releases?
x Margaret