Happy New Year everyone!
I hope you all had a wonderful start to 2020. Can you believe we're in a new decade??
Today, I'm here to wrap-up my reading in December. And…well, there's not much to wrap-up. I read only five books in December, way lower than my average of twelve, and two of those were short books under 200 pages.
December ended up being incredibly busy for me – who knew that working in retail during the holidays would take up so much time? Between that, getting ready for Christmas, baking tons of cookies, and spending time with family and friends who were in town, I barely had the time, let alone the energy, for reading. And when I did, I just wasn't in the mood, for whatever reason.
There were several books that I picked up and put down again because I didn't feel like reading them. Even the books I did read, even though I enjoyed them all, didn't grab me like they normally might. Not sure exactly what was going on with that.
Hopefully now that things have calmed down a little after the holidays, I'll be able to get back into my usual reading routines. I have plenty of books that I'm excited for on my upcoming TBR, and I definitely want to get to those soon!
Books I read
A City Inside by Tillie Walden ⭐️⭐️⭐️⭐️/5
This graphic novel is so short that I read it twice in the span of a half hour. As usual, Tillie Walden tells an incredibly powerful story in a short amount of time, with her beautiful art and writing that feels like poetry. The story is all about mental health and creating connections with other people, and even though it was short, I really enjoyed it.
The History of the World in Fifty Dogs by Mackenzi Lee ⭐️⭐️⭐️⭐️/5
This book is exactly what the title says: exploring the history of the world through fifty dogs who were important in some way. From Alexander the Great's warrior pupper to the rescue team dogs after 9/11, this book is full of good boys and girls throughout history. Mackenzi Lee always makes potential boring topics hilarious and interesting, and this book is no exception.
Crier's War by Nina Varela ⭐️⭐️⭐️⭐️/5
I should have a mini-review of this book up fairly soon with more of my thoughts, but in short: I spent the entire time reading alternately screaming for Ayla and Crier to kiss and wanting to hug both of them tight for what they've been through.
We Used To Be Friends by Amy Spalding ⭐️⭐️⭐️⭐️/5
release date: Jan. 7th
Full review coming for this in a few days! Even though I knew that this was about a friendship breakup going in, this ended up being even sadder than I anticipated. Plus, the timeline thing was cool!
In Other Lands by Sarah Rees Brennan ⭐️⭐️⭐️⭐️⭐️
It's hard to believe that I only read this a month ago, because since then it's kind of taken over my life. Anyway, this book easily made my top books of the year, and if you want more of my thoughts, my full review is here. TL;DR: the found family trope makes me cry.
Other things
Star Wars: the Rise of Skywalker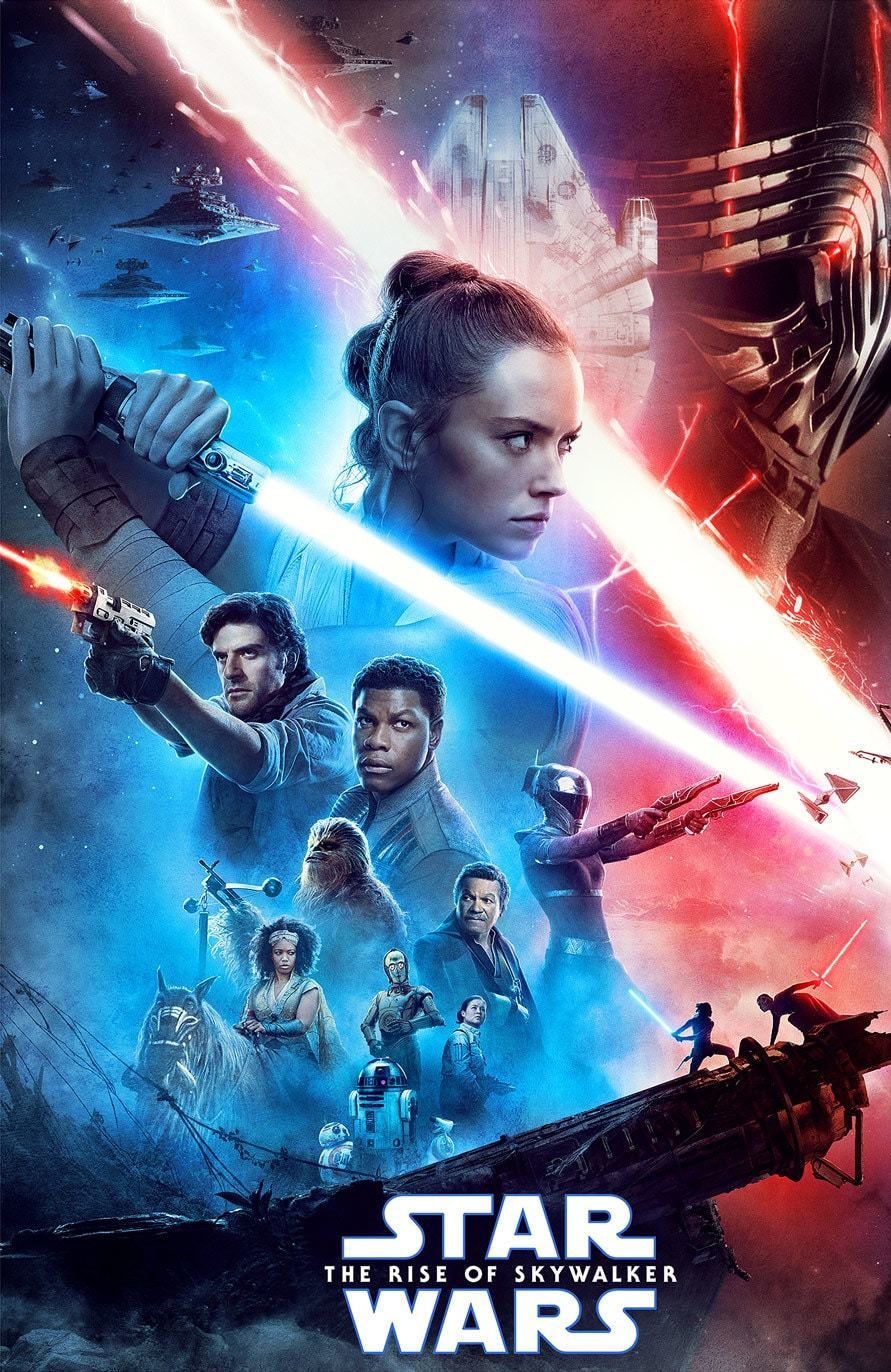 So…that's a thing that happened.
I'm not including this movie on here because it's something that I liked, necessarily, but because it was an important cultural moment. I'm not the biggest Star Wars fan, though I still like to see all the new movies when they come out. And this one…well, when I saw it, I thought it was fine, even if there were some aspects that I really didn't like. But the more I think about it, the less I like it. I don't want to spoil anything for anyone who hasn't seen it, but basically, it did not feel like a satisfying conclusion to the trilogy at all.
Sorry to anyone who liked it. Are there people who liked it??
Knives Out
Now for something that I actually did enjoy a lot!
I wasn't super interested in seeing this movie until I heard everyone raving about it (and Chris Evans' sweater). I'm so glad I listened to that, because this is definitely one of the best movies I saw all year. (Not saying much, but still.) It felt like a classic murder mystery while including themes of racism and classism that are all too relevant to today, and the cinematography was stunning. (I feel smart when I throw out big words like that.) Plus, I saw someone suggest the main actress, Ana de Armas, to play Evelyn Hugo in that adaptation, and what can I do to make that happen???
December blog posts
I've been doing a lot of wrap-up type posts to finish off the year:
🎄 My favorite books of 2019 – the top nine of the year!
🎄 More favorites and reading stats – other books that I loved beyond the top nine, plus pie charts
🎄 Character awards – aka the Smashing & Dashing Character Awards of 2019
🎄 Writing wrap-up – all about what I wrote in 2019 and my 2020 goals
🎄 Non-bookish favorites – TV, movies, musicals, and anything else from this year that isn't books
🎄 anticipated 2020 releases – over 50 books that I'm looking forward to this upcoming year!
I didn't do a ton of blog hopping in December, sadly, but here are a couple posts from fellow bloggers that I enjoyed:
🎄 Kal @ Reading Voracious talked about making your blog more accessible, and I've been trying to incorporate these tips into my own blog as much as possible.
🎄 Marie @ drizzleandhurricanebooks discussed pacing yourself in your reading instead of rushing through to hit an arbitrary number of books.
🎄 Caro @ bookcheshirecat gave book recommendations based on holiday movies, which is such a fun idea!
🎄 Jess @ crowing about books discussed how we define the age category of YA.
🎄 Rukky @ Eternity Books talked about writers of diverse books and who should be writing about diverse characters.
January TBR
Starsight by Brandon Sanderson
Geekerella by Ashley Poston
The Hazel Wood by Melissa Albert
Tweet Cute by Emma Lord (eARC; released 1/21)
Belle Revolte by Linsey Miller (eARC; released 2/4)
Dread Nation by Justina Ireland (reread)
What books did you read in December? What's the last book you read in 2019? What's your first 2020 read?
x Margaret 
goodreads | twitter | indiebound
Pin this!