So remember in my February wrap-up when I said that nothing had really happened to me all month? Well I think March heard that and decided that Everything was going to happen All At Once.
This month has been rough, I'm not gonna lie.
It's strange to think that at the beginning of March, I was getting ready to leave my job, move across the country to New York, and find a new job. Now it feels like everything in the world has changed. Obviously, I didn't end up moving, and even though I know everyone has had – and will have – to give up a lot as a result of this virus, many of it much bigger than mine, this was my own little heartbreak. It sucks to have to give up on something I've been working toward for almost two years, with no clue of when I might finally be able to do it.
Right now, I am without a job – since the bookstore where I work(ed) is closed – and stuck at home for the foreseeable future.
But not everything from this month was bad! I hosted a readathon! I read some great books and watched some great movies! So let's talk about some of those, shall we?
First thing's first: in March, I hosted the Women's History Month Readathon, which was a blast. I was amazed by how many people participated – so much more than last year! It was fun to see what everyone was reading and learn about new and amazing female authors to support. I'll get more into this later, but a huge thank you to everyone who joined in for this readathon. ❤️
Everything I read in March was by a female author, and even though I didn't get to everything on my TBR and ended up with a few more rereads/comfort reads than originally planned, I still found some great new books. I read ten books total, four of which were rereads, with an average rating of 4 stars. Now lets talk about these books!
Books I read
The Sound of Stars by Alechia Dow ⭐️⭐️.5/5
Mini review is here. I was sadly let down by this YA sci-fi. Despite having potential and some good elements, it never seemed to come together.
Race to the Sun by Rebecca Roanhorse ⭐️⭐️⭐️/5
Mini review is here. A middle grade adventure involving Navajo mythology that was fun, but didn't manage to blow me away.
Little Women by Louisa May Alcott ⭐️⭐️⭐️⭐️/5
Mini review is here. I'm very proud of myself for finally (finally!) reading this classic and discovering why it's so beloved. Despite its outdated bits, I was overall happy with it.
Mexican Gothic by Silvia Moreno-Garcia (ARC) ⭐️⭐️⭐️⭐️/5
A genuinely terrifying gothic horror novel set in 1950s Mexico! This book spooked me quite a bit and I liked it. I'll have a full review closer to the release date in June!
The Cruel Prince by Holly Black ⭐️⭐️⭐️⭐️/5
Mini review is here. This popular YA fae fantasy did not disappoint! I already love Jude as a character and can't wait to see where the rest of the series takes her.
The Hunger Games by Suzanne Collins (reread) ⭐️⭐️⭐️⭐️.5/5 and Catching Fire by Suzanne Collins (The Hunger Games #2) (reread) ⭐️⭐️⭐️⭐️/5
I haven't read The Hunger Games series since I was in high school, so I figured that right now, during a global rise of authoritarianism and political unrest, would be the perfect time to do it. Fool-proof logic, right? I want to write a full series review once I also reread Mockingjay, so stay tuned!
My Lady Jane by Cynthia Hand, Brodi Ashon, & Jodi Meadows ⭐️⭐️⭐️⭐️/5
Mini review is here. This historical comedy was a hilarious joy to read and a welcome distraction from the world.
Ella Enchanted by Gail Carson Levine (reread) ⭐️⭐️⭐️⭐️⭐️
Me? Reread childhood favorites in a time of stress and personal life upheaval? It's more likely than you think. Ella Enchanted is one of my favorite books of all time, and this latest reread reminded me why all over again. Ella and Char are the ULTIMATE CUTE.
The Seven Husbands of Evelyn Hugo by Taylor Jenkins Reid (reread) ⭐️⭐️⭐️⭐️⭐️
I returned to another favorite this month via audiobook, and oh boy. I thought I had cried all my tears about this book the first time, but I was very much wrong. Many, many tears were shed. This book is just. Incredible. My review from the first time I read it is here.
Women's History Month Readathon
Have I mentioned yet that I ran a readathon this month??
Even though I couldn't put as much time and effort into it as I'd hoped because of Stressful Things Happening In The World, I'm happy that I was able to do this and see so many others participating.
Seven of the books I read this month counted for the readathon. The beginning bingo board looked like this…
…and my finished board looked like this…
I also created the Women's History Book Tag, and I'm delighted that so many others did it as well! Huge shoutout to…
Mary and the Words 📚 Hissing Potatoes 📚 Lauren @ Narrative Paradise 📚 The Comfy Reader 📚 Zezee with Books 📚 Lais @ The Bookish Skies 📚 The Bookish Mutant 📚 Kristin Kraves Books 📚 Bookmark Your Thoughts 📚 Time for tales and tea 📚 Caro @ bookcheshirecat 📚 Whimsically Meghan 📚 Caitlin Althea 📚 Lauren @ Twenty-Seven Letters 📚 Embuhleeliest 📚 Sophie @ Me and Ink 📚 Sweaters & Raindrops 📚 Belle Can Read 📚 Mandy & Sha @ Book Princess Reviews 📚 The Redefined Reader
(I hope that's everyone who's done it so far, but if I missed anyone, please let me know!)
I LOVED reading everyone's answers to the questions I made, especially seeing who everyone chose as their inspiring historical figure. I learned about so many interesting women! Thank you all ❤️
Other things
Movies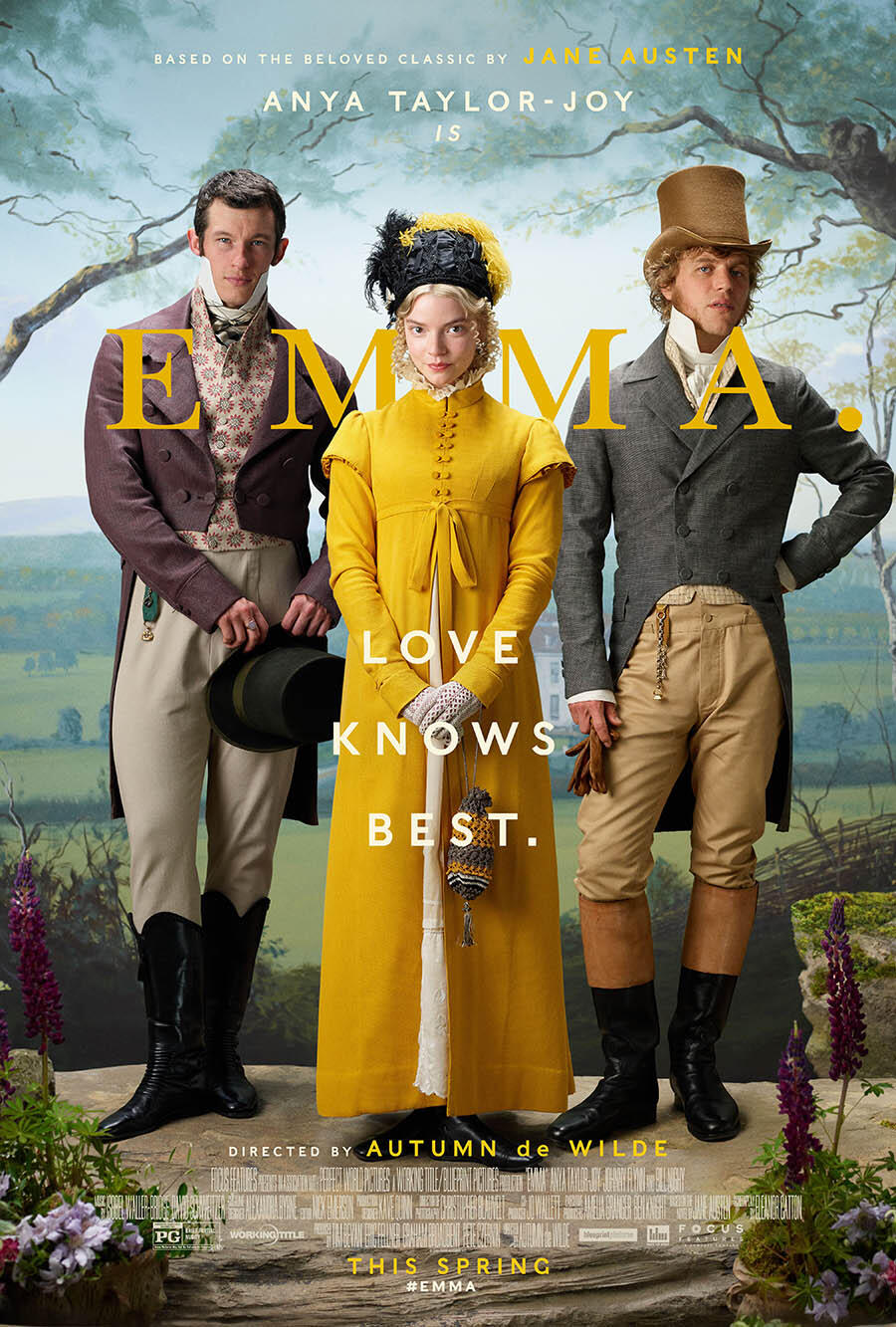 Being the huge Jane Austen nerd that I am, I was sad when all the theaters closed and I couldn't see the new adaptation of Emma…. that is, until they released it digitally! I watched it twice in two days and I'm now obsessed. The 2009 BBC miniseries will always be my favorite Emma adaptation, but this one did an incredible job with a story that's close to my heart. Its aesthetic was bright and unique, and this Knightley was top tier.
I also watched Jojo Rabbit, Taika Waititi's WWII comedy about a Nazi boy who finds a Jewish girl hiding in his house. It somehow managed to strike the perfect balance between ridiculous and serious, and I really, really enjoyed it.
Finally, I saw Portrait of a Lady on Fire, a French period film that's just about the most gorgeous thing I've ever seen. It's been weeks since I saw it and I'm still thinking about it constantly.
Not everything that came out of the pandemic was terrible
Yes, it was a month of canceled plans and dreams put on hold, but there were a few bright spots that came out of this month.
An unbelievable amount of community support at the small bookstore where I work(ed), including people donating money for kids in need of books.
Talking to Marissa Meyer on the phone at work??? I'm still in shock.
Driving around to deliver books to people's houses like book Santa Claus.
Realizing that…I'm good at my job?? It was stressful and exhausting the last week that we were open, but I couldn't have done it if I weren't good at it. And this showed me that…I am. Huh.
Posts I loved
In addition to all the Women's History Book Tag posts, I found a few others around the blogisphere that I enjoyed:
🌼 Kerys @ The Everlasting Library suggested some book-related activities to keep you busy while you're stuck at home.
🌼 Mandy @ Book Princess Reviews recommended books by and about women, which is very on theme for the month.
🌼 Sophie @ Me and Ink talked about the elusive "perfect female character" and the impossible standards that women are held to, both in fiction and real life.
🌼 Sage @ Sage Shelves recommended adult fantasy books to read if you liked these YA fantasy books.
🌼 Abi @ Scribbles & Stories explained why we need to see more female author names on fantasy books, particularly in the adult section.
🌼 Rae & Jen @ Novels and Notions listed books that they recommend to everyone, including some of my personal favorites.
🌼 Lauren @ Twenty-Seven Letters collaborated with several other bloggers (including yours truly 👀) to talk about our favorite bookish villains. This was such a fun post to be a part of!
April TBR
This April, I'm once again joining the O.W.L.s Magical Readathon! You can read all about my chosen career and my TBR in this post, but these are the books I hope to read:
The Bone Season by Samantha Shannon
Mockingjay by Suzanne Collins (reread)
My Plain Jane by Cynthia Hand, Brodi Ashton, & Jodi Meadows
We Have Always Lived in the Castle by Shirley Jackson
The Language of Spells by Garret Weyr
Bonds of Brass by Emily Skrutskie
The Witches Are Coming by Lindy West
The House in the Cerulean Sea by TJ Klune
Yes No Maybe So by Becky Albertalli & Aisha Saeed
What books did you read in March? How are you weathering under the pandemic? What do you plan to read in April?
x Margaret
goodreads | twitter | indiebound
Pin this!