I don't know exactly what's happening with time right now, but March lasted approximately five years but April went by in two heartbeats??
I guess a part of it is that I've kind of just settled into this new normal, which is weird in its own way considering how horrible the world is as a whole. But I guess we've all had to get used to getting on with our lives while the world falls apart during the past few years, huh?
What a bummer way to start out a wrap-up. Anyway, April wasn't a bad month! Not much happened in my life, unsurprisingly, but I am able to work from home a few days a week now, which is nice. And I'm writing a lot! So between working, writing, reading, and blogging, I've been able to keep myself pretty busy.
A highlight of the month was taking part in the O.W.L.s Magical Readathon! My goal was to pursue the dragon taming special course, which meant studying Magizoology (4 books) as well as another dragon book for extra research…and I was successful! I even managed to fit in a few extra prompts as well. I can't wait for the N.E.W.T.s in August!
This month, I read a total of ten books with an average rating of 3.9 stars. There were lots of pretty average rated books for me in April, but luckily I also found a few standouts. Now let's talk about what I read!
Books I read
The Language of Spells by Garret Weyr ⭐️⭐️⭐️/5
 ✨ O.W.L. exam: Extra research – book with dragons ✨
Mini review is here. A sweet middle grade book about dragons and memory that was nice but, ironically, not the most memorable.
Bonds of Brass by Emily Skrutskie ⭐️⭐️⭐️/5
 ✨ O.W.L. exam: Astronomy – Night classes: read the majority of this book when it's dark outside ✨
Mini review is here. I was a little sad that I didn't love this book as much as I hoped I would. It was still a fun space adventure, but it didn't live up to all of my hopes and dreams.
My Plain Jane by Cynthia Hand, Brodi Asthon, & Jodi Meadows ⭐️⭐️⭐️.5/5
 ✨ O.W.L. exam: Herbology – Mimubulus Mimbletonia: title that starts with M ✨
Mini review is here. This Jane Eyre retelling was lots of fun! It might not have grabbed me as much as the first book in this series, but I still enjoyed it.
Mockingjay by Suzanne Collins (Hunger Games #3) (reread) ⭐️⭐️⭐️.5/5
 ✨ O.W.L. exam: Care of Magical Creatures – Hippogriffs: creature with a beak on the cover ✨
Series review is here. With this, I finished my reread of The Hunger Games series. This one is my least favorite, but I still had a LOT of thoughts about it, which you know if you've read my (very long) series review.
The Bone Season by Samantha Shannon ⭐️⭐️⭐️.5/5
 ✨ O.W.L. exam: Charms – Lumos Maxima: white cover ✨
Mini review is here. An excellent futuristic fantasy with incredible worldbuilding, though it definitely suffered in the pacing department.
The Pale Dreamer by Samantha Shannon (The Bone Season #0.5) ⭐️⭐️⭐️.5/5
 ✨ O.W.L. exam: Potions – Shrinking Solution: book under 150 pages ✨
The prequel novella to The Bone Season! Not much to say about this other than it was nice to get some background on the characters but not the most mindblowing.
A Neon Darkness by Lauren Shippen (The Bright Sessions #2) ⭐️⭐️⭐️⭐️.5/5
RELEASE: Sept. 29, 2020
I'm still in shock that I've read this?? A Neon Darkness is the second novelization of my favorite fiction podcast, The Bright Sessions, and it's the origin story of the podcast's villain, Damien. I wasn't sure how Lauren Shippen could possibly make me so invested in Damien's backstory, but here we are. I'll have a review out for this eventually, but in the meantime, get excited!!
Yes No Maybe So by Becky Albertalli & Aisha Saeed ⭐️⭐️⭐️⭐️.5/5
 ✨ O.W.L. exam: Muggle Studies – book from a perspective of a muggle (contemporary) ✨
This book just made me so happy!! I'll have a review out next week probably, but Sparknotes version: I felt so inspired and ready to change the world after reading this, and I loved it.
I Was Born For This by Alice Oseman (reread) ⭐️⭐️⭐️⭐️⭐️
Rereading Alice Oseman is always a sure way to brighten up my life. I read this in less than a day and I think I loved it even more the second time?? I want to hug both Angel and Jimmy. And this time around, I appreciated Bliss SO MUCH – she's such a highlight of this book! I want a sequel soooo baaaad. Anyway, my review from reading this for the first time two years ago is here.
The House in the Cerulean Sea by TJ Klune ⭐️⭐️⭐️⭐️⭐️
 ✨ O.W.L. exam: Defense Against the Dark Arts – Grindylows: book set at the sea/coast ✨
Full review is here. Well, I've found a new favorite! I could gush about this book for days, which is pretty much exactly what I did in my review, so I'll spare you all here. Long story short, go read it!!
Other things
Schitt's Creek finale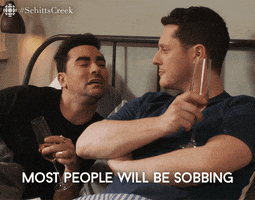 Another one of my favorite shows ended and I'm sad! But also happy because the ending was so beautiful and perfect??? Ahhhh the conflicting emotions!
Schitt's Creek never failed to make me smile, and I'm certainly going to miss it and all of the characters that I got attached to over the course of six seasons. Still, it felt like the right place to end, and I'm really satisfied with how things turned out. I will admit that I shed a few happy tears.
Some things keeping me sane right now
Rewatching certain shows has been filling my heart with joy. My family and I are steadily making our way through Brooklyn Nine Nine and it's just as fantastic as it always has been. It's official – Captain Holt is my favorite character. I also revisited Yuri! On Ice for approximately the hundredth time. It's a little ridiculous how happy that show makes me and how much I cry when it ends. I've been slowly making my way through rewatching the best parts of The X Files (aka all the episodes where Mulder & Scully gaze at each other a lot) for the past few months, which continued in April as well.
I also watched some new shows! I Am Not Okay With This took me by surprise, and I ended up watching the entire first season in one day…though to be fair, it was only seven episodes. I'm also almost caught up on Derry Girls, which is the perfect amount of silliness I need in my life right now.
For some reason, I've been loving listening to podcasts more than usual! After reading A Neon Darkness, I decided to re-listen to The Bright Sessions, even though I've listened to it so many times before. I'm currently on Season 3 and enjoying it immensely!
Some other nonfiction podcasts that I've enjoyed lately are Our Opinions Are Correct (a podcast about SFF and storytelling from two SFF writers), Spirits (all about folklore and mythology), Hot and Bothered: Twilight in Quarantine (reading Twilight and giving hilarious unsolicited advice to the characters), and Keeping a Notebook (a writing podcast from Nina LaCour that's so inspiring and relaxing).
Music that I listened to
Posts I loved
🌷 Ellyn @ allonsythornraxx recommended books based on Disney movies and I LOVE all of the suggestions.
🌷 Sophie @ Me & Ink wrote a great discussion about morally grey characters that was such a fascinating read!
🌷 May @ forever and everly recommended a ton of books by authors of color for anyone who's been reading only white authors.
🌷 Laura @ thebookcorps listed 29 TV shows to watch during lockdown, including some of my favorites!
🌷 Sophie @ Sophie's Corner talked about why she loves middle grade books, and I agree with everything she said!
🌷 Fatma @ The Book Place discussed the trope of the Messy Woman in fiction, highlighting both good and bad examples.
🌷 Marie @ drizzleandhurricanebooks talked about how she plans her blog content, and I'm very impressed by her organization!
🌷 Lauren @ twenty-seven letters gave her reaction to watching the last two Harry Potter movies and finally finishing her HP journey!
🌷 Caitlin @ Caitlin Althea listed all the f/f books she's read as well as the ones on her TBR – a great resource for anyone in need of recommendations.
🌷 Alice @ love for words supplied a few resources for legally finding books for free, which is so cool!
May TBR
I have a ton of ARCs that have piled up, and I want to use May to get through as many of them as possible! Plus a few others, if I can fit them in. We'll see.
The Invisible Life of Addie LaRue by V.E. Schwab (out Oct. 6)
By the Book by Amanda Sellet (out May 12)
Harrow the Ninth by Tamsyn Muir (out Aug. 4)
Something to Talk About by Meryl Wilsner (out May 26)
Burn Our Bodies Down by Rory Power (out July 7)
Cemetery Boys by Aiden Thomas (out Sept. 1)
A Peculiar Peril by Jeff VanderMeer (out July 7)
The Extraordinaries by TJ Klune (out July 14)
The Silvered Serpents by Roshani Chokshi (out Sept. 22)
Chosen Ones by Veronica Roth
The Wicked King by Holly Black
I hope you're all doing well and staying safe and healthy! And now, well…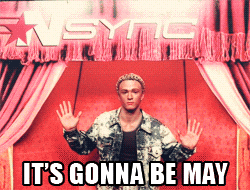 What did you read in April? What have you been reading or watching to keep yourself busy from home?
x Margaret
goodreads | twitter | indiebound
Pin this!