Do you ever read the description of a book, and even though it's from your usual genre or maybe even from an author you usually like, it does not sound interesting at all?
I think we all have things that immediately make us want to pick up a book (for me, it's dragons, female friendships, portal fantasy, found family, etc.), but there are also plenty of things that do the opposite. Today, I'm talking about my "nope list," or things from books that don't interest me, whether it's a setting, character type, trope, style, etc. These aren't necessarily deal-breakers, and there are exceptions to every one of these, but if I see a book with one or more of these things in the description, I say "nope." I'm much less likely to pick it up, and if I do pick it up, I'm less likely to enjoy it.
These aren't things that I think are problematic or that shouldn't be in books at all, nor are they triggers that I want to stay away from. They're just things that I don't care to read about. And that's okay! We all have a nope list. So now let's get into mine!
High seas settings
It seemed like a year or two ago, the big trend in YA was mermaids and/or pirates. As much as I love the aesthetic of those things, I'm really not interested in reading about them in books, so I picked up almost none of those. The notable exceptions to this aversion, of course, are The Lady's Guide to Petticoats and Piracy and The Deep, which had other aspects to draw me in. Sorry, Elizabeth Swann.
Generational stories
Every time I see a book that follows a family through multiple generations, I put it down immediately. I don't think I've ever read a book like this that I genuinely enjoyed, and there's something about it that just doesn't appeal to me at all! ¯\_(ツ)_/¯
Genuine enemies-to-lovers
Allow me to explain what I mean. I do love a good enemies-to-lovers story, but I like the "Elizabeth and Darcy" brand, where they instantly dislike each other and swear to hate each other forever, then start to actually get to know each other and fall in love in the process.
What I can never understand is when two characters genuinely hate each other and at the same time are attracted to each other?? I'm sitting there thinking, "why are you kissing?? You don't even like each other! You don't even know each other!" It's the reason I never understood the appeal of Jude and Cardan (sorry), and I think it's the reason why a lot of YA romance is a nope from me.

Books from POV of murderer/psychopath/stalker/villain
Obviously there are some incredible books out there from the POV of the villain where you actually get their version of events and come to sympathize with them a little, such as Vicious or Wicked, and some of those I really love! But that's not exactly what I'm talking about.
When books are from the POV from a truly despicable, irredeemable person who you're supposed to hate, I don't like it. I find it so uncomfortable seeing the world through their eyes; it makes me want to take a shower and scrub my skin for 10 hours. It's the reason I will never read or watch You; it's the reason that I'm withholding judgment but very unenthusiastic about the new Hunger Games prequel; the reason that Lolita is my least favorite book in the universe (and I'm still lowkey mad at professor who made me read it).
Plot focused books
I mean, I think anyone who looks at my favorite books can tell that I'm much more of a character and atmosphere reader. When the book cares more about the plot and the various twists and turns, I can't force myself to get invested.
Assassins
WHY are there so many YA fantasy books with assassins?? (Is it because of Throne of Glass?) I don't have a problem with assassins (that's a phrase that would be concerning in pretty much every other context), but I've almost never been interested in them. Probably because I have absolutely no way of relating to their personal and moral struggles??
Books with no women
There's pretty much no excuse in the year 2020 not to have women in your cast of characters. Still, there are a lot of books out there (especially older ones) that are all about men, and any time I'm recommended one of these I'm like: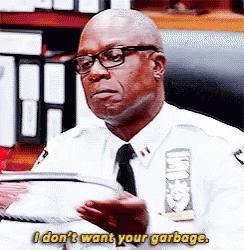 (I realize that this is a bit rich from someone who loves The Lord of the Rings with all of her soul lol. I told you there are exceptions.)
Fantasy court politics
I realize I'm probably in the minority for this, since court politics seems to be quite popular in fantasy. As always, there are exceptions: The Priory of the Orange Tree and Mistborn are some of my favorite fantasies, and both contain court politics. But when said politics are the main focus of the plot, I'm out. I don't know why I can care so much about books with real world politics and so little about fantasy politics, but here we are.
Multiple first person POVs
With the exception of anything written by Alice Oseman (I Was Born For This is the ultimate example of a multiple first person POV done well), I find it difficult to switch between more than one first person perspective. I love multiple POVs in third person, but when everything is narrated by an I, I get confused about who's speaking every time it switches.
Soulmates
This is definitely more of a fanfiction trope than anything else, but any time it shows up in a book, I'm instantly put off. Even though I may joke about my OTP being soulmates, I really dislike the idea of actual soulmates, since I don't think love is about Finding The Right Person, but rather finding people that you want to love. Finding a "soulmate" not only feels reductive, but it rings too much like instalove and raises too many questions for me (what happens if your "soulmate" dies?? what if someone doesn't want a soulmate?? who decides these things and why??). Nope list.
80s and 90s settings
With the exceptions of Aristotle and Dante, The Miseducation of Cameron Post, and Like a Love Story (bet you can't guess what those books have in common), I've never read the description of a book set in the 80s or 90s and wanted to pick it up. I think part of this comes from reading/watching so many things from those time periods and getting annoyed at all the references I didn't understand lol. There's a lot of nostalgic media from these time periods right now, and for the most part I just don't care.
Grimdark fantasy
I've definitely talked before about how the idea of a world in which every person is terrible and selfish and backstabbing does not appeal to me at all (hi, have some hopepunk book recs). Not only is this type of book incredibly disheartening, but it usually comes with plenty of abuse of women in a way that's supposed to be "realistic" and "gritty." No thanks. It's the reason I'll never be interested in Game of Thrones, and tbh much of the adult fantasy written by men.
What's on your nope list? Do you agree or disagree with anything on mine?
x Margaret
Pin this!