If somehow the characters from Jane Austen novels existed in the world today and walked up to me, the first thing I would do is die on the spot, probably. But the second thing I would do is recommend books to them, because, naturally.
The question is: if I met these characters today and had to recommend them a book, what would I choose?
For all seven of the heroines from Jane Austen's six completed novels, I have a book recommendation based on what I believe they would like. This post was a lot of fun to put together, so without further ado, let's get into it!
Elizabeth Bennet (Pride & Prejudice)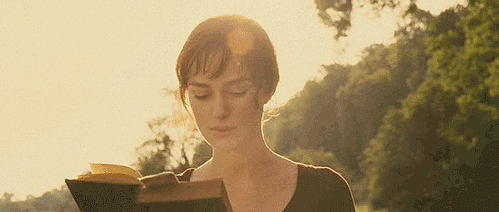 Elizabeth is one of the most loved characters in literature for a reason. Headstrong, clever, and lively, she does not suffer fools and constantly shuts down anyone who disrespects her or her family. Nothing but love from me!
My book recommendation is…
The Seven Husbands of Evelyn Hugo by Taylor Jenkins Reid
As an icon of literature herself, I think Elizabeth would only be satisfied with reading about another truly iconic character. Even though their stories are quite different, I can imagine Elizabeth relating to Evelyn's desire to gain respect and rolling her eyes at all the awful men that Evelyn has to deal with. Plus, both Evelyn and Elizabeth are quite proud (I mean…Pride & Prejudice), so Elizabeth would most likely see herself in this book.
Fanny Price (Mansfield Park)
Fanny may not be my favorite Austen heroine, but she's still a wonderful character in her own way. She strikes me as a gentle soul who would much rather escape into a book than face real life (relatable), so I think I've found the perfect book for her.
My book recommendation is…
The Ten Thousand Doors of January by Alix E. Harrow
Like Fanny, January grows up in a fancy home apart from her family, and even though she's told to be grateful for what she's given, she isn't treated very well. So I think Fanny could definitely relate to that. Plus, January has to learn to that she's not going to make anything better by sitting back silently and trying to be good, which is a lesson I think Fanny could use in order to become a little more bold and willing to speak her mind.
Emma Woodhouse (Emma)
Even though Emma is quite intelligent, she isn't much of a reader. She's more of a people person than a book person, and she prefers to surround herself with real-life company rather than fictional characters. Still, I think I can find something that would pull her in and get her invested in the characters.
My book recommendation is…
Tash Hearts Tolstoy by Kathryn Ormsbee
I'm recommending this book to Emma for several reasons. First, because it has a wonderful friends-to-lovers romance that Emma would relate to. Second, because there is a wonderful group of characters with relationship drama that would interest Emma. And finally, because there's a classic lit aspect to this book (the webseries that the characters make is a retelling of Anna Karenina) that made me feel smart even though I've never read Tolstoy, and I think Emma would appreciate that!
Marianne Dashwood (Sense & Sensibility)
Representing the "sensibility" portion of this book's title, Marianne is flighty, romantic, and impulsive. Which makes her an entertaining character to read about! I imagine that she's the type of reader to imagine herself as the heroine of every story she reads, so I had to find a book that she could do that for.
My book recommendation is…
Tweet Cute by Emma Lord
Since Marianne is an incredibly dramatic person, I obviously had to choose a dramatic book for her! In Tweet Cute, the stakes feel incredibly high, even though they aren't in the grand scheme of things, which I think Marianne would relate to. I can imagine her getting very invested in the banter-filled relationship and various dramatic twists and identity reveals. Plus, Tweet Cute has a wonderful sister relationship that I think Marianne would like!
Elinor Dashwood (Sense & Sensibility)
Elinor is the "sense" side of the equation, so she balances out Marianne's sentimentality. Practical and collected, she's very much a mothering figure to all of her family members and makes sure nobody gets themselves in too much trouble. Not to mention, she cares about her sisters deeply.
My book recommendation is…
Book of a Thousand Days by Shannon Hale
Although I don't think Elinor would naturally gravitate toward fantasy books, I can definitely imagine her enjoying this one. Since a major focus of the book is on a friendship/sisterhood between two very different girls, I think she would relate to a lot of it. This book's narrator, Dashti, is also a very nurturing person who sometimes forgets to look after herself because she's looking out for others, which is something that Elinor would understand.
Anne Elliot (Persuasion)
Anne is, in my opinion, one of the most under-appreciated characters in literature. Even though she's quiet and easy to overlook, she has a lot of inner strength and dignity. I really just want to tell her that she deserves everything! Okay… *gets off my "Persuasion deserves more appreciation" soapbox*
My book recommendation is…
We Are Okay by Nina LaCour
I originally wanted to pick something cheerful since Anne could use that, but I couldn't think of anything that fit. And sometimes when you're sad – which Anne is, constantly – you just need to read something sad to commiserate your feelings. We Are Okay may be a heartbreaking book, but it could help show Anne that it's okay to ask for help from the people around you when you need it. And despite its sad parts, it's an ultimately hopeful book, much like Anne's story.
Catherine Morland (Northanger Abbey)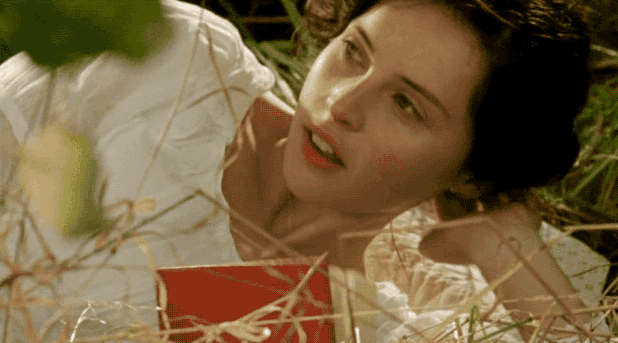 As the youngest of Austen's heroines, Catherine is wide-eyed and at times quite naive, but in the most entertaining way possible. She's a big reader and has convinced herself that she's the heroine in a dramatic, Gothic novel (who hasn't done this??), so she clearly needs something equally dramatic to lose herself in.
My book recommendation is…
Twilight by Stephanie Meyer
Am I choosing this book because I wrote an entire essay in college about why Gothic fiction is to Jane Austen's time what vampire novels are to today, and wrote a modern-day Northanger Abbey AU where Catherine thought Henry Tilney was a vampire, which I turned in for a grade?? Maybe. We already know that Catherine enjoys unrealistically sensational romance and melodrama, so I'm 100% sure that she would love Twilight. Do I think it would be good for her and help mature her fanciful thinking? No, absolutely not. Is it incredibly entertaining to think about? Definitely!
What books do you recommend to these Jane Austen heroines? Which Jane Austen heroine do you think would have the most similar reading taste to you?
x Margaret