Happy Valentine's Day weekend! 💕
Now, don't get me wrong, Valentine's Day is still one of my least favorite holidays. Still, I do enjoy a good fictional romance from time to time, since what's better than living vicariously through imaginary characters? In honor of the holiday, I'm giving you some romance book recommendations (both adult and YA) based on five of my favorite couples from TV sitcoms. While these books might not work as perfect comparisons to the shows themselves, I feel that the couple dynamic fits for each of these. Let's get into them!
If you like Eleanor and Chidi from The Good Place…
…read Take a Hint, Dani Brown by Talia Hibbert
In this book, Dani and Zaf fake a relationship after they go viral in order to bring publicity to Zaf's nonprofit, and it goes just about as well as you'd expect. I can see plenty of similarities between these characters: Eleanor and Dani's cynicism and aversion to commitment (also bisexual queens), Chidi and Zaf's anxiety and general too-good-for-this-world-ness. Both couples struggle quite a bit with the strange circumstances of their relationship…even if a faked social media relationship isn't quite in the same ballpark as dealing with the afterlife. Oh well, they all make it work in the end.
my review | goodreads | storygraph | bookshop
If you like Ben and Leslie from Parks and Recreation…
…read Yes No Maybe So by Becky Albertalli and Aisha Saeed
Look, I managed to find a book that wasn't Red, White & Royal Blue (since I had that with Parks and Rec in my last TV-book pairings)! Yes No Maybe So follows Jamie and Maya, who unwillingly spend their summer canvassing for a local election together and end up caring about it (and each other) much more than they expected. While I don't think either of them quite match Leslie's energy yet, their passion for political activism and making positive change in the world very much fits with Parks and Rec's entire ethos. Plus, I think Jamie and Maya would admire Ben and Leslie, thee political power couple, very much.
my review | goodreads | storygraph | bookshop
If you like Jake and Amy from Brooklyn Nine-Nine…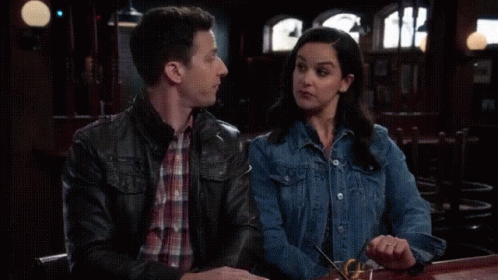 …read Technically, You Started It by Lana Wood Johnson
If you told me that Lana Wood Johnson began writing Technically, You Started It as a Peraltiago high school AU fic, I would not be surprised. This YA romance follows Martin and Haley, whose text conversation starts because of a class project and continues because of an identity mix-up and a lot of banter. These two have a very similar dynamic to Jake and Amy, with Martin as the goofball slacker who's smart in his own way, and Haley as the meticulous perfectionist who tries too hard at everything. I really enjoyed the gradual character and relationship growth between Martin and Haley, just as I did with Jake and Amy.
my review | goodreads | storygraph | bookshop
If you like David and Patrick from Schitt's Creek…
…read Heartstopper by Alice Oseman
What a shock, it's me recommending Heartstopper once again! If you somehow haven't already read this adorable graphic novel series, then now is the perfect time, especially if you love Schitt's Creek. (And vice versa, if you've read Heartstopper and haven't watched Schitt's Creek, then go do that.) Nick and Charlie in Heartstopper are just as supportive of one another as David and Patrick, and each couple has the anxious overthinker balanced out by the steady, practical one. Also, both Nick and Patrick's coming out storylines are absolutely gorgeous.
goodreads | storygraph | bookshop
If you like Nick and Jess from New Girl…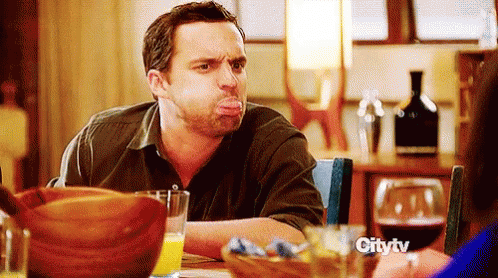 …read Tweet Cute by Emma Lord
Tweet Cute follows Jack and Pepper, who end up on opposite sides of a Twitter war between their respective family restaurants' accounts. Much like Nick and Jess, they find that they get along despite initial misgivings and the fact that they seem like complete opposites. Plus, all of these characters are kind of messes in their own endearing way, even if Pepper and Jess appear like the more responsible and put together ones. The banter between Jack and Pepper is absolutely delightful, too, which I'm sure any New Girl fan will appreciate.
my review | goodreads | storygraph | bookshop
Do you agree with my book pairings? What are your favorite sitcom/TV couples?
x Margaret
goodreads | twitter | instagram | bookshop
Pin this!